Ultrafiltration water quality and resilience
How ultrafiltration membranes provide solutions for current and future water management challenges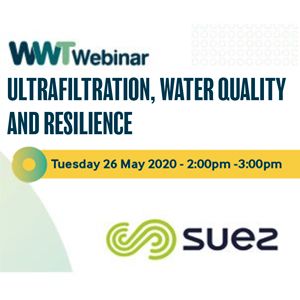 Time: Tuesday 26 May 2-3pm
WWT, in association with Suez's Water Technologies and Solutions, will be hosting a free webinar on how ultrafiltration techniques can be used to improve water quality and resilience.
The water sector is increasingly challenged with issues related to water scarcity, emerging pollutants, and aging infrastructure.
Ultrafiltration membranes are a versatile and uncomplicated technology that can be applied in a variety of flow sheets to provide the resilience and water quality expected of the modern water treatment plant.
This webinar expands on well-known membrane concepts, highlighting key considerations and innovative ideas for water companies and industry faced with decisions on improving water quality, reusing water, and ensuring future supply.
Time: Tuesday 26 May 2-3pm
Presenters:
Sean Johnstone – Senior Product Manager, Suez's WTS
Ian Martin – Projects Sales Leader for Suez's WTS
Carl Richardson – Senior Technical Lead for Suez's WTS

About the speakers
Sean Johnstone is Senior Product Manager for ZeeWeed Pressurized Ultrafiltration. Sean joined Suez in 2013 as part of the GE Water Technologies & Solutions Ultrafiltration business, headquartered in Oakville Ontario Canada. In his current function, Sean is responsible for the success, growth and customer experience of the ZeeWeed 1500 and ZeeWeed 700B pressurized ultrafiltration product lines.
Before joining the product management team, Sean held roles of progressive responsibility in field services, engineering and technology. Sean has a B.Eng. in Chemical and Bioengineering from McMaster University.
Ian Martin is the Projects Sales Leader for Suez's WTS based in the UK. He is responsible for 'Solution Development' of Integrated projects in UK and Ireland. He has over 20 years' experience of the UK water and wastewater treatment industry whereby he has worked predominately as a Process Technology provider and MEICA contractor. He joined Suez's WTS in 2017 and current leads a team in the municipal, oil & gas, chemical and power market sectors.
Carl Richardson is a Senior Technical Lead for Suez's WTS based in the UK. In his current role, Carl is responsible for the technical development and implementation of water treatment solutions that are particularly focused on Water Reuse. Carl holds a PhD in Chemical Engineering from Loughborough University (2002) and prior to joining Suez's WTS has worked for GE Water & Process Technologies (acquired by Suez in 2017), Zenon Environmental Ltd. (acquired by GE in 2006), Hydranautics and Severn Trent Water. Carl is considered as an expert in membrane filtration.