Journey to net zero – In focus: Water and wastewater treatment processes
On day two of WWT's Journey to net zero "webathon" we will scrutinise the challenges, opportunities and industry progress with regards to driving carbon emissions out of water and wastewater treatment processes. Following a round-up of key issues and insights from day one of our webathon, our specialist speakers will shed light on recent and upcoming technology investments which are enabling them to reduce and monitor emissions relating to treatment processes. They will also share thoughts on supporting people and process considerations which must be taken into account for maximum effect.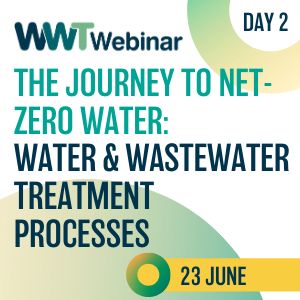 Webinar listeners can pre-submit questions, queries or challenges to our speakers, or submit these during the live event. To submit a question (anonymously) in advance, please use this form.
Confirmed speakers include:
Pete Vale, Technical lead – innovation, Severn Trent
Bruce Jefferson, Professor, Cranfield University 

 
TIME: 11:30-12:30 (BST)