Inside Innovation: MOSL's Modernisation Of The Business Retail Market
The water market for business users is taking its first steps to embrace disruptive innovation in a new project to upgrade the segment's operating systems.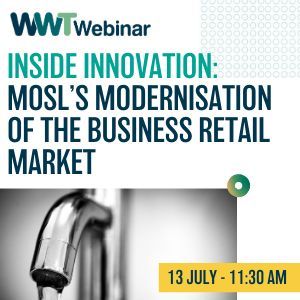 The non-household water retail market, which opened in 2017, is underpinned by the Central Market Operating System (CMOS) run by Market Operator Services Ltd (MOSL).

MOSL will present its plans to re-design the market's systems in the WWT webinar Inside Innovation on Monday July 13, 2020 at 11.30am to 12pm.

The programme of work aims to simplify MOSL's technology estate and support the evolution and growth of the market. This step change, along with the bilaterals transaction programme, are the biggest developments since the market opened.

This upgrade will allow MOSL to segment and extend its services. Additionally, it will enable third parties, subject to code changes, to potentially "plug and play" directly into the market. This will improve services for customers and simplify processes for retailers and wholesalers.
Speakers:
John Davies, chief information officer, MOSL
John Gilbert, director - bilaterals programme, MOSL
The webinar will cover:
Breaking up the old system into modules with discreet functions which service different aspects of the market
Re-hosting the system into a more modern infrastructure using Microsoft Azure;
Building a service wrapper around the system to allow other systems, parties, software providers and water companies to integrate easily
The bilaterals project to standardise and simplify communications between retailers and wholesalers
Monday July 13, 2020 at 11.30am to 12pm