Supply chain needs "more pull" on carbon
01/03/2011
"More pull" is needed from water utilities if they are to make the most of their supply chain partners, says a leading pump manufacturer. The view was expressed at a recent Round Table event on "Carbon footprint reduction in wastewater networks," hosted by Water & Wastewater Treatment magazine.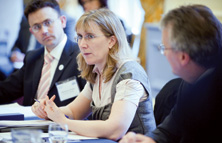 Clive Patten, managing director of pump manufacturer ABS Wastewater Technology, sponsor of the event, surprised some water company representatives when he said that they were failing to get the best out of companies like his.
"We don't get a lot of pull from the industry on innovation, we have to very much come and push and sometimes that 'push' is very difficult."
Participating in the event, Ben Roche, Yorkshire Water's asset strategy manager, said it was "amazing" that some utilities were failing to engage with the manufacturers on energy efficiency.
Stephen Bird, operations director at South West Water, said he thought it was often a "perception" that water companies were not innovative, but added, "if there are procurement issues, blockers, processes that seem to get in the way, then obviously we are all interested to know how we can overcome those."
The debate took place in London on 31 March 2011 and was chaired by Professor Tom Stephenson of Cranfield University. Representatives from Thames Water, Anglian Water, Welsh Water and Severn Trent also took part.
Other topics under discussion included sewer abuse, customer behaviour, flow monitoring, urban drainage and private sewer transfer.
The Round Table was organised by WWT magazine in partnership with
ABS
.
Download Transcript

>
Participants
Professor Tom Stephenson Chairman
Cranfield University and advisor to the board, BluewaterBio
Dr Stephen Bird Operations Director
South West Water
Matthew Pluke Energy Manager
Anglian Water
Dr Sarah McMath Head of Asset Planning, Optimisation & Innovation
Thames Water
Steven Wilson Managing director
Black & Veatch
Paul Gibbs Head of wastewater
Welsh Water
Ben Roche Asset Strategy Manager
Yorkshire Water
Clive Patten Managing Director
ABS Wastewater Technology
Paul Fisher Standards Manager in Wastewater
Severn Trent
Charles Gaisford Principal Consultant
SKM Enviros
}