Young Thames Water scientist wins top chemistry award
A young Thames Water chemist who helps maintain the company's top-quality drinking water has won a major science award.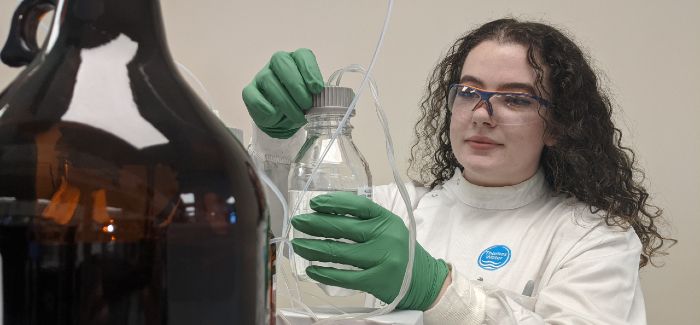 Katty O'Brien-Quilty, 22, from Slough, has been named the Royal Society of Chemistry's Chemical Sciences Apprentice of the Year. 
Based at the Thames Water laboratory in Reading, she won the award for proficiency in a variety of analytical techniques and serving as a fantastic advocate and brand ambassador for apprenticeships, chemistry and Thames Water itself.  She received a £1,000 cash prize and a trophy.
O'Brien-Quilty, who joined Thames Water in 2017, is studying chemistry at Greenwich University, and works alongside other analysts to carry out nearly one million tests a year on clean water to ensure it is safe to drink, and wastewater to ensure it meets strict environmental standards.  
Commenting on the prize, she said: "I'm ecstatic to receive the award and I'm attributing it to the fantastic team that I work with – they push me to take opportunities presented to me and generally better myself within my field as well as outside of it.  
"It's fair to say when the email first came through, I had to check that it was from a legitimate email address. I was very shocked. My manager had mentioned to me that I had been nominated but I quickly forgot about it as I never thought I'd win in a million years. It was a very nice surprise and made my day a lot brighter."  
Helen Pain, acting chief executive of the Royal Society of Chemistry, said: "We live in an era of tremendous global challenges, with the need for science recognised now more so than ever – so it is important to recognise those behind the scenes who are making significant contributions towards improving the world we live in. It is our honour and privilege to do that with these awards, which recognise exceptional scientific achievement.  
"The global chemical sciences community is one that covers many different specialisms, from health and climate change to product development, sustainable transport, and everything in between. In recognising the work of Ms O'Brien-Quilty, we are also recognising the important contribution this incredible network of scientists makes to improving our lives every day."