Yorkshire Water, University of York team up on UK-first AD project
Yorkshire Water and the University of York have begun work on a new project that they hope will transform the anaerobic digestion process and reduce the company's carbon footprint as well as cutting customer bills.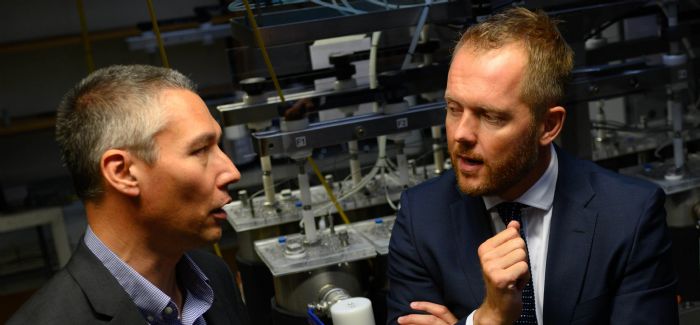 Professor James Chong and Ben Roche in front of the system
Anaerobic digestion is the process of turning human waste into biogas. In vast digesters, microbes produce biogas that is used to generate electricity, while the remaining digested sludge is used as agricultural fertiliser. By 2020, all of Yorkshire's sewage will be treated by anaerobic digestion instead of incinerators.
Yorkshire Water plans do do this by making its existing digesters work harder, and has enlisted the services of Professor James Chong's team at the University of York.
Yorkshire Water and Professor Chong have built 60 identical laboratory digesters – the largest number in the UK – which provide unparalleled insights into the microbes that drive anaerobic digestion.
They plan to use these to find the ideal conditions for anaerobic microbes that break down sewage. Achieving this would increase efficiencies, meaning more sewage could be treated and more biogas produced in each digester.
They have also commissioned a pilot-scale digester unit at Yorkshire Water's nearby Naburn sewage treatment works, which will allow laboratory results to be tested further under realistic process conditions.
Results from the project will feed directly into operational business decisions and will allow Yorkshire Water to predict and therefore prevent potential issues within the digesters in future.
Yorkshire Water's director of wastewater service delivery, Ben Roche, said: "As an industry we have said that we will be carbon neutral by 2030 and anaerobic digestion plays a key role in this.
"By the end of the year we estimate we would have reduced our carbon footprint by 80 per cent over the past decade and reduced sludge treatment costs by a third over the past three years, but there is more to do.
"That is why we recently opened our new £72 million anaerobic digestion facility at Knostrop Energy & Recycling Centre, which itself because of the new assets and wind power, is often carbon neutral.
"With Yorkshire's population set to grow by a further one million people by 2045, it is vital we pull out all the stops to ensure we have the capacity to deal with demand. That is why this collaboration with the University of York is so exciting, because it allows us to treat more waste without building more assets, which is better for the planet and also helps keeps customer bills low."
Professor Chong said: "Working with Yorkshire Water means that we are able to access real-world feedstocks and digester contents and therefore address real-world problems. The new facilities we've built in the Biology Department at York allow us to mimic large-scale installations and use state-of-the-art techniques to understand how the microbial communities that drive anaerobic digestion change in response to the material that enters the digesters.
"The pilot-scale rig provides a great route to testing our findings further before we move innovations to full-scale systems.
"The award of a Royal Society Industry Fellowship is allowing me to build a fantastic partnership between the University of York and Yorkshire Water, and this project is a really exciting opportunity to improve the recovery of resources such as biogas and fertiliser from sewage."
Phillip Blaen, innovation project manager at Yorkshire Water, said: "Yorkshire Water's investment in this state-of-the-art equipment will transform the performance of our anaerobic digesters and lead to increased biogas production and levels of energy generation.
"We are very pleased to be working with James and his team on this collaborative and ambitious project that will provide sustainable benefits for our organisation, our customers, and the wider environment."