Yorkshire Water team head for Ethiopia
Three Yorkshire Water experts have flown to Ethiopia as part of a mission to improve the country's water infrastructure and access to safe, clean water.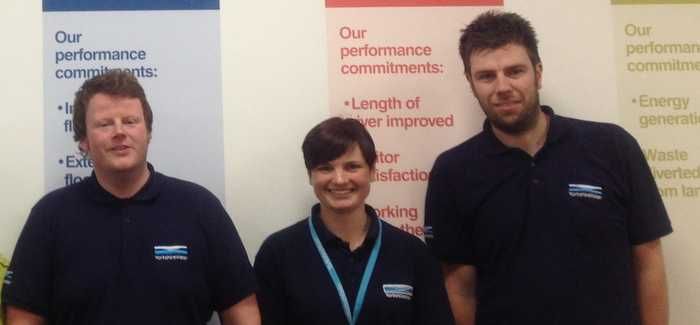 Left to right: Joel Tidswell, Anna Warrington and Nigel Riley
The trio of experts have volunteered to be part of a small task force from the utility firm who will visit the East African country from 21st to the 30th of June.
The nine-day trip is part of a Yorkshire Water and WaterAid mission to bring clean water to 130,000 people in Ethiopia and improve access to safe water, sanitation and hygiene education.
With 67 million people living without sanitation and 33,000 children under the age of five dying from diarrhoea every year, Ethiopia's water supply and sanitation is amongst the lowest in the world.
Anna Warrington, a Water Quality Scientist who lives in Bradford; Nigel Riley, a Leakage Inspector from Selby; and Joel Tidswell, a Field Technician from Halifax, have a combined 23 years' experience in the water sector and will advise and assist Ethiopia's Bishoftu water company on various aspects of water distribution and water quality. This will include best practices to avoid contamination and how to dose chlorine into the system to help prevent bacteria from entering the water supply.
Anna Warrington, 30, said: "This is a once-in-a-lifetime opportunity for me to share my wide knowledge of water quality to make a real difference to people's lives in Ethiopia. We take for granted easy and unlimited access to clean water and toilets, but most people in Ethiopia do not have these provisions, which sadly results in widespread illness and death. By providing skills training to Bishoftu water company workers, I hope to be able to help bridge the skills gap and improve the country's water provision and infrastructure."
Christine Mellor, Water Industry Partnerships Manager, explained: "This is a new way of working for WaterAid and its partners to link up and share skills. Both here in the UK and in Ethiopia, water company professionals will ultimately improve lives for their customers. This is a golden opportunity to help people in Ethiopia be healthier and safer."
Yorkshire Water was one of the founding-members of WaterAid, which was set up 34 years ago in 1981. Over the next five years, the company has a target to raise £1M as part of its 'Big Wish for Ethiopia' project to help deliver clean water and toilets for the poorest communities in Ethiopia.
Most of Ethiopia's water is sourced direct from boreholes via village standpipes with limited water treatment before it is consumed.
The three visitors will be writing a daily blog about their experience whilst in Ethiopia. To track their progress, visit: http://yorkshirewateraid.blogspot.co.uk.