Yorkshire Water starts £24M upgrade at Rivelin WTW
Work on Yorkshire Water's £24M project to upgrade Rivelin water treatment works near Sheffield is now underway. The company called on the services of Nick Clegg, MP for Sheffield Hallam and former LibDem leader, to break the ground and get the scheme started.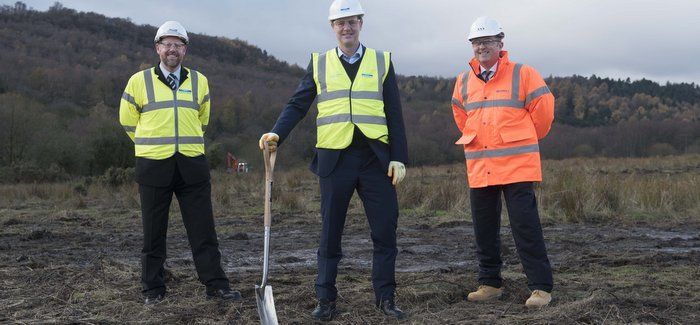 Nick Clegg (centre) with Yorkshire Water's Simon Balding (left) and Mott McDonald Bentley director James Harris
The project is being managed and constructed by Mott MacDonald Bentley and is due to be complete by the end of 2017. Work involves constructing a new building in a field to the west of the current works to house new clarifying settlement tanks, which will act as the first phase of the water treatment process.
Clegg commented: "I'm pleased to be involved in this ground breaking ceremony, which signifies the start of this huge investment into improving the quality of drinking water for thousands of residents in Sheffield. It's great that Yorkshire Water have consulted with so many local organisations and I look forward to returning to see the new underground building when it's completed."

Simon Balding, Yorkshire Water project manager, said: "We're delighted Mr Clegg was here to celebrate the start of this £24 million investment with us. Our works is in the beautiful Rivelin Valley and to minimise the impact of the new building on the landscape we've consulted and listened to the Rivelin Valley Conservation Group, Sheffield Wildlife Trust, Crosspool Forum and local residents."  
Rivelin WTW opened in 1994, and is capable of processing 75Ml of raw water daily.