Yorkshire Water, Sainsbury's and Waitrose in Xmas FOG gadget give-away
To encourage customers not to pour fat, oil and grease (FOGs) down the drain this Christmas, Yorkshire Water has teamed up with Sainsbury's and Waitrose stores in its region to give away FOG collection gadgets. Yorkshire Water is giving away 7,700 EkoFunnels from 30 Sainsbury's stores and 1,400 Fat Traps from seven Waitrose outlets to customers who pre-order a turkey for their Christmas roast.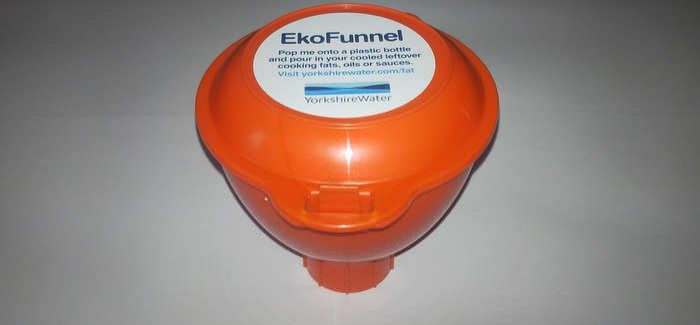 Thirty Sainsbury's stores in Yorkshire will be giving away 7,700 EkoFunnels
Yorkshire Water said that last year 2,635 sewer blockages around the Yorkshire region alone  were caused by FOG liquids, often leading to flooding inside homes and businesses. The traps and funnels can be used to collect waste FOGs for recycling or disposal via the bin.
Richard Flint, Yorkshire Water chief executive officer, said: "We're asking people to put our sewers on a low fat diet and think before they dispose of fat, oil and grease down the sink or through the dishwasher.
"Whilst it only takes a couple of extra seconds to get rid of products like fat by putting it in the bin, it will mean that the millions of pounds we currently spend removing these products from the sewers of Yorkshire can be invested elsewhere ─ improving our network and the service we offer."
Paul Crewe, head of sustainability for Sainsbury's, said: "We're proud to be distributing over 7,700 EkoFunnels at our stores in Yorkshire this year. As well as keeping Britain's wastewater network flowing, the cooking oil and fat captured from your roast this Christmas could be turned into bio-fuel to power vehicles."
Quentin Clark, Waitrose's head of sustainability and ethical sourcing, added: "Fat in the sewers is a big problem, particularly at this time of year. By encouraging our customers to use our free fat-traps, we can dramatically cut the percentage of damage caused to drains by fat, oil and grease."