Yorkshire Water's £7M sea outfall pipe scheme nears completion
The £7M project to replace the sea outfall pipe at Wheatcroft, Scarborough, is nearing completion, Yorkshire Water has announced.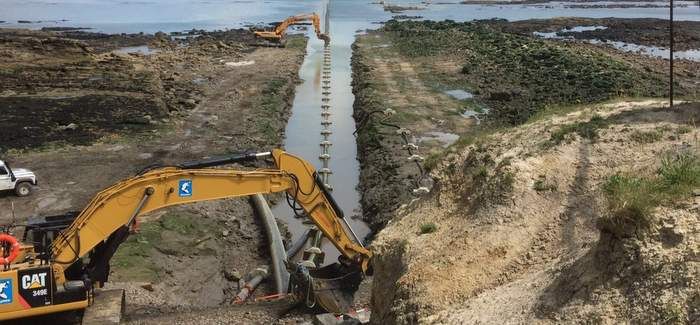 Marine engineering contractor Van Oord has had numerous vessels on station in Cornelian Bay since April this year whilst excavating a trench in the sea bed and installing the new pipe. In April and May the team battled though some bad weather from the east and remain on target to finish the project by the end of July.
The new 2.5km outfall pipe was created in Norway and towed across the North Sea to Teesside docks in sections, each 500m long. The five sections of pipe were prepared at port, towed out to Cornelian Bay and welded together at sea before being placed in the trench and buried under the sea bed at the end of June.
Project manager, Mark Doherty said: "We're delighted to announce that our Van Oord colleagues have successfully installed the new outfall pipe. Van Oord were chosen because of their extensive expertise and experience in this kind of work and the project team overcame a period of very bad weather to keep the project on target. Throughout the project the whole team have shown great ingenuity and have displayed a great deal of collaboration to overcome the challenges it has presented."
The current pipe is made of steel and it is being replaced with a new, high density plastic pipe which will last for about 60 years. The new pipe will also be 500m longer than the current 2km pipe so it will discharge consented wastewater further out to sea. The onshore connection of the new pipe was completed last week and the reinstatement of the shoreline is expected to take until the end of July.