Yorkshire Water plans sustainable development around WwTW
Yorkshire Water and sister company Keyland Developments Ltd have submitted a planning application to Bradford City Council to transform redundant land around the Esholt wastewater treatment works in Bradford into one of the country's leading sustainable industrial and residential developments.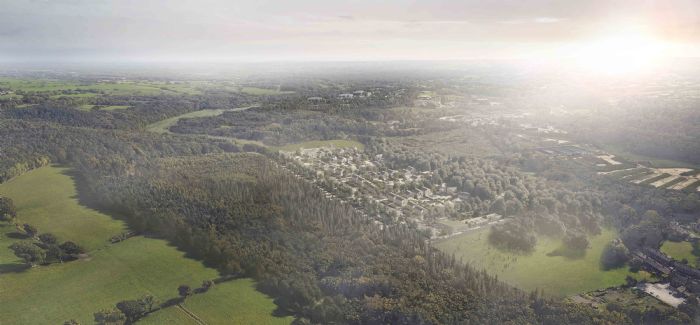 This CGI image shows how the sustainable development could appear
The 32-acre Esholt WwTW site sits close to both Leeds and Bradford and, as a result of advances in technology, the operational footprint of the site has reduced significantly over recent years, leaving large areas of formerly operational land redundant and unused.
The project team has undertaken extensive public consultation on the future of the site to ensure the views of local people have been taken into account alongside the vision to create a masterplan for an exceptional and nationally recognised development, which will repurpose the largely brownfield site to deliver economic, social and environmental benefits through homes, employment and open space.
The plan focuses on ensuring the development fits with the existing landscape and includes ideas relating to health & wellbeing, environment, social value, long-term value, sustainable transport, positive resource use and water & energy.
The three broad categories of innovative employment, sustainable housing and community enhancements have been devised based on the economic and social needs of the locality.
The innovative employment element of the masterplan details the creation of 100,000m2 of quality, sustainable workspaces to accommodate a mix of industry, with a particular focus on bio-tech businesses and other industries that can make the most of heat, power and water generated by the treatment works to maximise sustainability.
This element of the masterplan is key to addressing the shortage of employment space in the surrounding area for growing Bradford businesses or relocating companies, with neighbouring business parks operating at full or close to capacity.
A key focus is on showing how homes and businesses can reduce their water consumption through innovative design, in a move that Yorkshire Water hopes will influence how developments in future can contribute to meeting the challenge of supplying a growing region with the water it needs, without impacting the environment.
The plan also showcases a number of community enhancements designed to create a new community connected to nature and with a real and visible relationship with water, with shared recreation spaces as well as sustainable transport routes to encourage walking and cycling through the site.
Luke Axe, planning manager at Keyland Developments Ltd, said: "We have always known that Esholt has the potential to be one of the most significant developments in the UK, so to be at the stage where we are submitting our plans for this innovative sustainable development is incredibly exciting.
"We have worked extremely hard with our valued project team over the last few months, undertaking extensive public consultations and stakeholder engagement to ensure that the plans will enable Esholt to reach its potential and deliver far reaching social, environmental and economic benefits. This development demonstrates how sustainability can drive design and we are looking forward to being able to deliver this ambitious project."
The Esholt team comprises: Tate Harmer, a UK firm of architects on sustainability and natural environments; sustainability consultants 3 ADAPT; and pioneering independent integrated planning and design consultancy Barton Willmore. The Esholt project team has a collective wealth of experience delivering exceptional projects across the UK including The Eden Project Cornwall, the Natural History Museum London, the Dyson Campus Malmesbury, City Fields Wakefield and Museum of Scouting Gillwell.