Yorkshire Water opens 'self-powered' sewage plant in Bradford
Yorkshire Water has unveiled its first sewage treatment works that creates enough energy through biogas to power itself, following the completion of a £34 million project.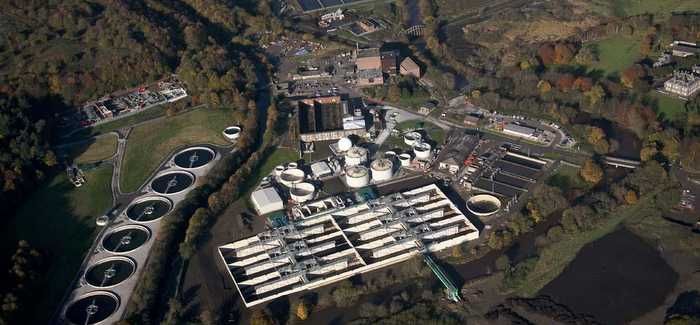 Esholt serves a population of 700,000 in Bradford and Leeds
Esholt Wastewater Treatment Works, which is being fully reopened today (October 3rd) after two years of improvements, will use a Thermal Hydrolysis Process (THP) to generate renewable energy from the 30,000 tonnes of sludge that comes through the site each year. It will produce as much energy as the 750-acre site consumes to heat and power itself, effectively meaning that the site is self-sufficient.
The site's uses Veolia's BioThelys system, which combines THP with conventional anaerobic digestion (AD) to maximise the efficient processing of sludge. The THP process effectively pressure-cooks the sludge at 165 degrees Celsius, turning it into a soup-like consistency and making it easier to capture biogas from. This biogas is then fed back through pipes and combusted in an engine to generate both electricity and heat that is circulated around the large facility.
Overall, the upgrade will reduce Yorkshire Water's carbon footprint by 9,000 tonnes and save £1.3 million a year in energy costs.
Richard Flint, Yorkshire Water CEO, said: "This is a massive step for us as a company and it is good news for the environment, the agriculture industry and also our customers because it will help us keep bills down.
"The technology being used on this site truly is some of the most cutting edge around and it's playing a major part in an 80% increase in the amount of renewable energy being generated by Yorkshire Water in the last year."
The opening event was attended by Bradford Lord Mayor Cllr Mike Gibbons, who said: "The innovative technology which Yorkshire Water is now harnessing is hugely impressive. I'm delighted that the Esholt site is now the first self-powered sewage plant in Yorkshire and is leading the way in the industry with this new technology."
Engineering specialists Morgan Sindall and Grontmij have undertaken the major project, in what is one of the biggest contracts ever awarded by Yorkshire Water.
Simon Smith, managing director, utility services for Morgan Sindall and Gavin Stonard, director of water & asset management at Grontmij, said in a joint statement: "The Morgan Sindall Grontmij joint venture is committed to adopting a sustainable approach on all the projects we deliver for Yorkshire Water."
"With this in mind, we are particularly pleased to have been able to work on this project to achieve such a green and cost efficient solution to powering the sewage works, which is a prime example of sustainability by design and our value beyond engineering approach. The Morgan Sindall Grontmij joint venture looks forward to continuing its successful partnership with Yorkshire Water throughout Asset Management Period 2015-2020."