Yorkshire Water launches social tariff
Yorkshire Water has launched its social tariff to help low-income households struggling with the cost of living to pay their water bills.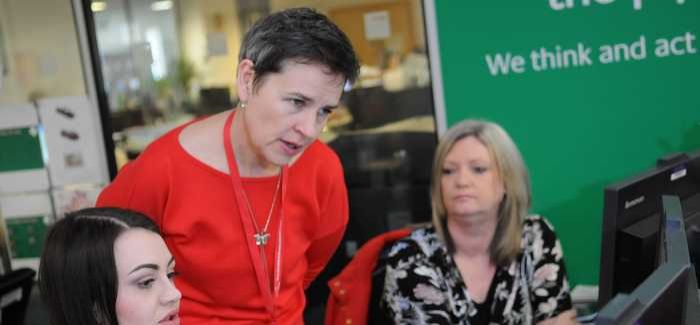 Wakefield MP Mary Creagh visiting Yorkshire Water's contact centre
The new social tariff, called Water Support, will help to reduce the bills of around 10,000 customers on low incomes and whose water bills are higher than average. Those customers eligible for the new tariff could see their bills fall by around £150 a year.
Water bills across Yorkshire Water's region are already set to fall by an average of 3% from April following the utility's settlement with Ofwat.
Yorkshire Water will target customers with low household incomes and whose water bills are higher than average, but who aren't currently in arrears with bill payment. The company will contact the customers identified to discuss if WaterSupport is the best tariff for them.  Customers can also contact Yorkshire Water direct if they believe they may be eligible.
The aim is to provide assistance to vulnerable customers and prevent them from getting into debt. For customers who are in arrears on their bills we have alternative schemes to provide assistance.
Yorkshire Water Chief Executive Richard Flint said, "Yorkshire Water customers already benefit from having some of the lowest bills in the UK and to help customers even more we'll be reducing the average bill by 3% from April 2015. However, we know the cost of living is a real concern for some of our customers and we want to do what we can to support those that are struggling with their water bills."
"We already have a number of schemes aimed at helping vulnerable customers and those struggling with debt, but our new Water Support tariff will help to prevent customers on low incomes getting into debt in the first place."
"Yorkshire Water is committed to being a responsible business and our new social tariff is an important step in ensuring we do everything we can to support our customers."
The scheme was launched on Friday with a visit from Wakefield's Labour MP Mary Creagh, who added: "Families across Yorkshire are struggling with the cost of living crisis so it's good to see Yorkshire Water introducing a social tariff to help people on low incomes. This is something which I have campaigned for, for several years.
"A Labour government will force all water companies to offer a social tariff to help people struggling to pay their bills."