Yorkshire Water fights blockages with 'fat vat' pilot scheme
A pilot scheme in Bradford which helps to turn fat into power, while preventing blocked pipes, is being extended after proving a success.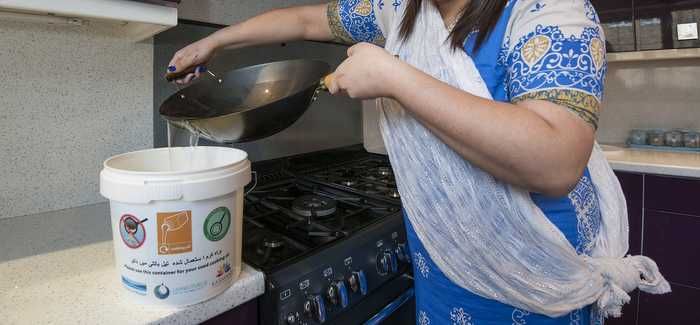 A Bradford resident using the 'fat vat' piloted by Yorkshire Water
Yorkshire Water began the unique 'fat vat' scheme in the Bradford Moor area in March, asking residents to collect used cooking oil in 5-litre containers rather than pouring it down the drain.
In the six months of the trial, the 85 residents in the area have participated in the scheme to the extent that over 500 litres of used cooking oil has been collected.
The liquid is converted into a bio fuel by renewable energy experts Living Fuels, giving enough fuel to power a microwave continuously for 1,500 hours.
As well as generating renewable energy, the scheme also prevents blockages in the sewer created by 'fatbergs', the large obstacles created when fats, oils and greases are poured down the sink before gathering and solidifying as they cool down.
Since the scheme was launched in Bradford, there has not been a single blockage on either of the streets involved - a significant result considering that houses in the Bradford Moor area have previously experienced more than 80 sewage blockage incidents in the past five years.
Yorkshire Water is now looking to expand the project to another 50 houses.
Duncan Woodhead, Network Protection Technician at Yorkshire Water, said: "The response from the local community to this trial has been excellent and people really do understand the difference they can make by changing their behaviour.
"We've been delighted with the amount of liquid we've managed to collect already and are looking forward to offering this to more people, which will help us generate more renewable energy and further reduce the amount of fats, oils and greases entering our network."
Yorkshire Water has been working with the Bradford Moor-based Karmand Centre to understand residents' cooking habits and spread the message about the impact of pouring used cooking oil down the drain.
Nasa Hussain, from the Karmand Centre, said: "By working together, Yorkshire Water and the Karmand Centre have succeeded in changing the way people in this small area of Bradford dispose of their cooking oil. Most people were unaware of what happened when oil was poured into the drains but this scheme has made a difference."
Yorkshire Water invested £2.3 million in improving the area's sewerage system last year and has since asked residents to get into the habit of pouring their waste cooking oil into the 'Fat Vats'.