Yorkshire Water expands 'fats to fuel' scheme
A 'fats to fuel' recycling project in Bradford plans to expand across parts of the city to harness the bio fuel potential of waste cooking oil, whilst also protecting local sewers.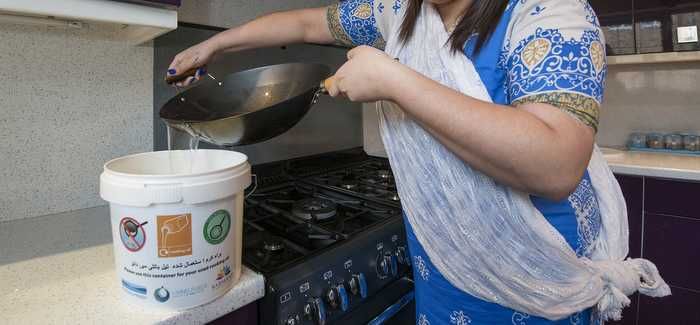 'Fat vats' being used in Bradford as part of the scheme
It is being led by the Karmand Community Centre based in Bradford Moor, with Yorkshire Water supporting and granting £10,000 to help gradually expand the project to cover 6,000 homes in the area.

The scheme involves asking local residents in the area to collect their waste cooking oil in tubs, known as 'fat vats', rather than typically pouring the greasy oils such as ghee down the kitchen sink.

These fat vats, once full, are then collected from residents' doorsteps, with the cooking oil sold to renewable energy companies to refine and turn into carbon neutral bio fuel. Just one litre of the cooking oils can generate enough electricity to make 240 cups of tea or power a television for 3 hours.

Thanks to the scheme, there has been an almost total elimination of sewer blockages in the area, due to the reduced presence of waste cooking oil, which can solidify into giant 'fatbergs' once in the sewer system.

The scheme began in March last year and currently has 85 households taking part, but could now gradually expand up to 6,000 homes.

Duncan Woodhead, Network Protection Technician at Yorkshire Water said: "We partnered with the Karmand Community centre on this 'fats to fuel' project to help educate people on the damage cooking oils can cause to sewers and to reduce sewer blockages.  It's great to now expand it and get more residents taking part in this community initiative."

In 2013, Yorkshire Water invested £2.3M on the sewer system in Bradford Moor including work on sewer blockages. But through this initiative, the firm hopes to reduce this spend to help keep customers bills as low as possible.

Woodhead added: "Since launching the scheme in 2014, it has already been a great success with 1,000 litres of cooking oil collected and diverted from the sewers.  A knock on benefit has also been the revenue opportunities created for the Karmand Community Centre to sell the cooking oils to renewable energy companies."

Historically, Bradford Moor was identified by Yorkshire Water as a sewer blockage hotspot due to 85 blockages taking place between 2011-2014. However, since the scheme launched there has only been one recorded blockage, highlighting the efforts of the local community to collect their cooking oils.

The tubs of cooking oil are collected by the Karmand Community Centre in a specially branded van provided by Yorkshire Water.  They are then poured into a 1,000 litre container and eventually sold to process and transform into bio fuels used to power generator stations and supply to the National Grid.

Mohammed Shakeel, Project Manager at the Karmand Community Centre, said: "Thanks to the £10,000 grant from Yorkshire Water we are now able to expand this project to cover more of the Bradford Moor area. We hope to eventually collect as much as 1,000 litres of cooking oil a week from thousands of local houses which is really exciting.  More than anything else though, it's great to see local people engaging in the project and understanding the benefits it can bring to the community as a whole."

110 kilotonnes of used cooking oil is disposed of each year by UK households, which could power 110,000 homes with carbon neutral electricity.

To celebrate the expansion of the scheme, a fun day was held at the Karmand centre attended by hundreds of people, including local residents, MP Imran Hussain and the Mayor of Bradford.