Yorkshire Water awards £100M marine framework contract
Yorkshire Water has awarded a marine framework contract worth up to £100M over the next five years.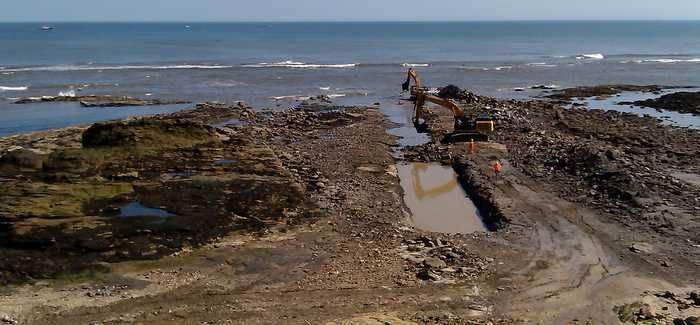 Van Oord has already started work on the Wheatcroft sea outfall project
The four framework partners are ABCO Marine, Farrans Construction, Van Oord and Ward & Burke. Over the next five years the four partners will undertake all the company's marine civil engineering work. They will install new sea outfall pipes, carry out site investigations and planned maintenance to improve existing outfall assets. This type of work requires specialist marine plant and work vessels and commercial divers are often necessary.
The first of these framework projects, worth £7M, involves replacing the long sea outfall at Wheatcroft in Scarborough which discharges consented waste water from the washing and processing of potatoes into the sea at Cornelian Bay. Van Oord started construction on this 2.5km pipeline in early April.
Nevil Muncaster, Yorkshire Water's Director of Asset Management said, "This framework has been designed to build on the work we've carried out over the last five years to improve Yorkshire's bathing waters. We are confident our partners will deliver the best possible solutions for us and the water environment, at the best price with the highest levels of safety."
Maurits den Broeder, Managing Director for Van Oord UK Ltd, added: ''We are delighted that Yorkshire Water has selected Van Oord onto their framework and we look forward to working together with a strong team of marine professionals to improve water quality on the Yorkshire coast".
Between 2010 and 2015 Yorkshire Water spent £110M on projects to further improve the cleanliness of beaches and bathing waters.