Yorkshire Water and EA complete fish pass at Langsett Reservoir
For the first time in over a century trout will be able to swim upstream to breeding waters at the top of the Little Don River thanks to a new 'fish highway' now completed at Langsett reservoir.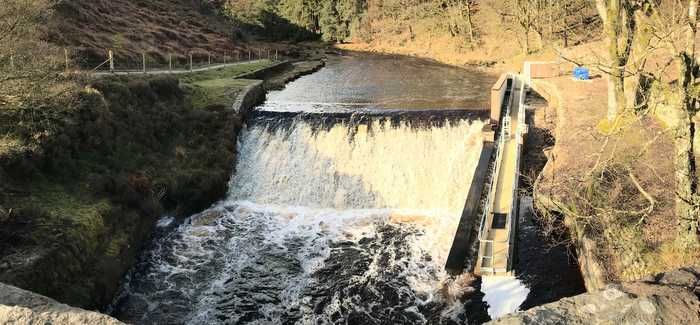 The new fish pass was a joint project between Yorkshire Water and the EA
The fish pass, near Stocksbridge in Barnsley, was funded by Yorkshire Water in partnership with the Environment Agency and unveiled by local MP Angela Smith to mark World Fish Migration Day (21st April).
Previously, a weir, originally installed to trap gravel, had prevented fish in Langsett reservoir from travelling up the Little Don River. However, now they are able to reach calmer breeding spots that will benefit the local brown trout population.
Dr Ben Gillespie, Yorkshire Water's Lead Environmental Advisor, said: "We are committed to playing our part to revive the region's rivers as part of the EU Water Framework Directive. At Langsett reservoir, we wanted to maintain the heritage value of the weir and decided that the best option was to build a 'Larinier' type fish pass. This allows fish to scale the weir by providing a gently-sloping channel, with low enough water velocities and enough depth to allow fish to ascend."
Yorkshire Water will be building a total of 14 new fish passes across their region between now and 2020, committing £10m and working closely with partner organisations. Projects will be carried out on the River Aire to help salmon travel upstream, as well as on the rivers Wharfe, Hull and Don.
Dr Jerome Masters, Fisheries Technical Specialist at the Environment Agency, said: "Weirs used to be built without any consideration for wildlife. Young trout can be washed downstream from the Little Don into the reservoir during high flows. Until now, these fish would have been stuck in the reservoir, where there are no suitable spawning grounds. Although the trout can survive there, we know they try to swim back into feeder streams to spawn. The new fish pass now gives them the opportunity to do just that."
Yorkshire Water is planning to use the opportunity of opening the fish passes to educate the general public about the importance of fish migration and maintaining and improving the environment in which we live.