Xylem's Lewis takes over as BPMA president
Duncan Lewis, Managing Director of Xylem Water Solutions UK Ltd, has been appointed President of the British Pump Manufacturers Association (BPMA).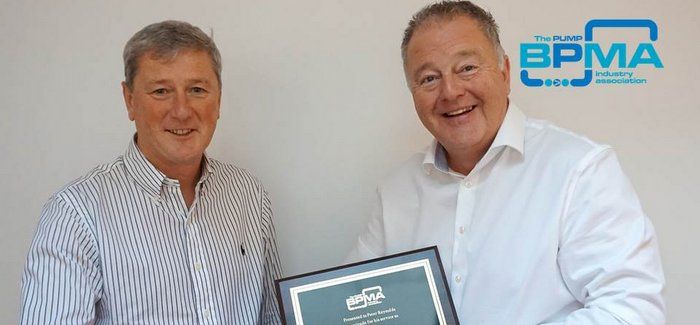 Duncan Lewis (left) takes over as BPMA president from Peter Reynolds (right)
The role was officially passed on at the recent BPMA Annual General Meeting, where Peter Reynolds, former BPMA President and Managing Director of Grundfos Pumps Ltd, congratulated his successor.
The new president is expected to serve a two-year term at the helm of the organisation, which keeps its member organisations updated on regulations that affect them, lobbies government and regulators on pump industry-specific issues and provides a forum for networking and knowledge sharing.
Duncan Lewis commented: "I have been involved with the BPMA for a number of years, so it fills me with pride and excitement to be given this opportunity to head this organisation as President. I look forward to the experience and challenges this will bring as we work together to continue to raise the voice of the pump industry and increase sector awareness."
Steve Schofield, Director and Chief Executive of the BPMA concluded: "It was our pleasure to make Duncan the new President of the BPMA. Duncan has worked hard to encourage the uptake of technical support and pump technology training to members, operators and purchasers of pumping equipment. He has been hands-on from the start and has played a vital role in the association as Vice President. No doubt he will call upon this experience during presidency."
Read WWT's recent interview with Duncan Lewis, in which he talks about the central challenges facing the pump industry, here.