Xylem in Manchester City partnership
Xylem has announced a global multi-year partnership with Premier League Champions Manchester City to become the club's official water technology partner.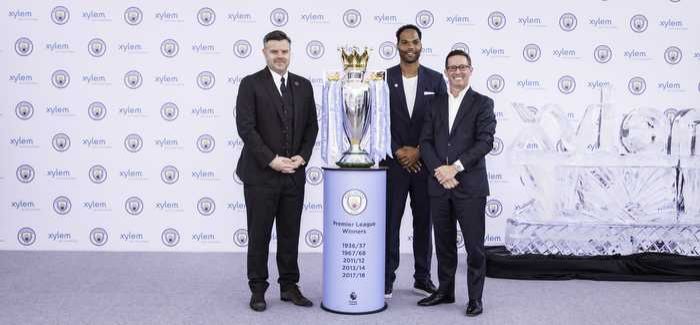 Damian Willoughby (Manchester City), Joleon Lescott and Patrick Decker (Xylem)
The partnership was announced yesterday at an event in Singapore, attended by former City player and England international Joleon Lescott, during the Singapore International Water Week. Xylem will also partner with City's sister club New York City FC and the Manchester City women's team.
Through the partnership, Xylem aims to raise awareness about pressing global water challenges and solutions. Xylem will also work with Manchester City on Xylem Watermark projects, such as building water towers in communities around the world without access to clean water.
Xylem branding will feature at the Club's Etihad Stadium on matchdays and also at the City Football Academy.
Damian Willoughby, Senior Vice President of Partnership at City Football Group, said: "We are delighted to announce this new partnership with Xylem. Manchester City and Xylem share a common commitment to operating in a sustainable and innovative way, whilst enhancing the lives of people in our communities around the world. We are excited to harness the global appeal of football to raise awareness of water challenges and support Xylem's efforts to tackle these issues."
Patrick Decker, President and CEO of Xylem, said: "We are thrilled to be partnering with Manchester City and excited to engage with their amazing fans around the world. From our first meeting, it was clear that City's value system was aligned with Xylem's. Our purpose as a company is to create both economic and social value. We do that every day by bringing solutions to market that solve water needs and challenges, and through our Xylem Watermark program. To partner with a Club that is committed to bringing about positive social change through football is a natural fit. Working with Manchester City, we will extend our reach to their massive fan base and, in doing so, increase our ability to create social value."