Works starts on SWW's new £60M Mayflower WTW
Work is now underway on South West Water's (SWW) new £60M state-of-the-art water treatment works, which will serve Plymouth and the surrounding area. The new treatment works will be officially known as the Mayflower Water Treatment Works, following a vote among SWW staff.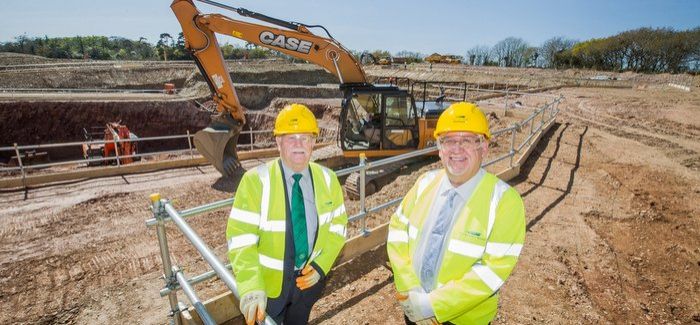 Cllr Bill Hitchins and Dr Stephen Bird
Representatives from Bickleigh Parish Council, South Hams District Council, Plymouth City Council, Devon County Council and Dartmoor National Park Authority visited the construction site at Roborough, just north of Plymouth, to see the progress being made.
SWW managing director Stephen Bird said: "We were delighted to show our visitors around the site, where the foundations for the main process building have now been dug. We were also able to unveil the works' official name, which has echoes of pioneering, innovating and exploring new worlds whilst paying homage to Plymouth's past, as well as linking in with the Mayflower 400 initiative leading up to 2020."
Cllr Bill Hichins, South Hams District Council's Ward Member for Bickleigh and Cornwood and chair of Bickleigh Parish Council, said: "It is fantastic that South West Water is investing in this new water treatment works and I really enjoyed seeing the progress which has been made. This new treatment works will offer superior drinking water for the region for present and future users."
Mayflower Water Treatment Works will replace the outdated treatment works at Crownhill in Plymouth, which was built in the 1950s and is reaching the end of its useful life. It will meet the needs of Plymouth's growing population and provide a secure, high-quality drinking water supply for the wider Plymouth area for generations to come.
It will use cutting-edge treatment processes, designed and developed by Dutch water technology company PWN Technologies, and tested at a prototype facility at Crownhill between June 2013 and June 2015.
The new technology uses suspended ion exchange, inline coagulation and ceramic membrane microfiltration. It is the first time that this technology has been used in the UK.
The construction phase is scheduled to finish by end of March 2018. Mayflower will become operational in September 2018, with the existing Crownhill works retiring from service a few months later.
Around 150 people are expected to be employed during construction.