Whitechapel fatberg to go on display at Museum of London
The Museum of London will put a section of the Whitechapel fatberg - the solid block of fat and sewage material removed from the sewers beneath London last year - on display this week.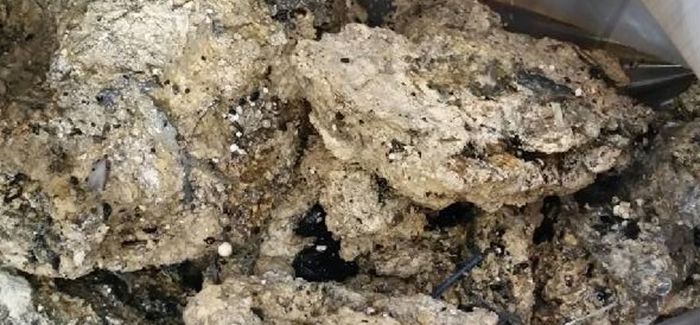 The Museum of London's Fatberg! display opens on 9 February.
Thames Water finally won its nine-week "battle" to remove the 250-metre long, 130-tonne fatberg in November last year and the Museum of London's Head of Conservation & Collection Care, Sharon Robinson-Calver, has said the "Fatberg!" exhibition, which opens on 9 February, will show "the crust of leftover fat and sewage, or at least a portion of it".
The exhibition is part of the museum's "City Now City Future" season and Robinson-Calver said: "The fatberg tells a story about how modern London is changing. The museum's collection already contains objects from when London's Victorian sewer system was built, after the city's health was threatened by water polluted with diseases like cholera.
"Now, our sewers are threatened by a modern crisis. Eight times every hour a Thames Water customer suffers a blockage caused by items being flushed away or put down the drain which shouldn't be."
Stuart White, Media Manager at Thames Water, said: "There is definitely something repulsively human about this modern-day monster we helped create – largely through our own excess. At its worst, a fatberg can cause a total blockage and the misery of sewer flooding. This rock-solid chunk in the museum is a vivid reminder to us all that out of sight is not gone forever."
Vyki Sparkes, who is curating the exhibition, told The Guardian it had been difficult to work out how to display a section of the fatberg, not least because it is extremely hazardous material that can release toxic gas.
She said they "initially thought about pickling it like one of Damien Hirst's cows" before opting to dry the samples, and that it will be encased in a specially sealed case.
"Worst-case scenario if it is handled incorrectly is death. It has come out of the sewer so it might contain Weil's disease," she said. "One of the problems is you get all sorts of things that live inside it. One of our samples unexpectedly hatched loads of flies in store."
Sparkes said the exhibition might "open that conversation" as to how the public's changing behaviour is creating fatbergs, adding: "We are not here to tell people how to behave. I am here to reflect how we live and to raise questions."
Lawrence Gosden, Thames Water's Managing Director for Wholesale Wastewater, told the WWT Wastewater 2018 conference in Birmingham last week that the Whitechapel fatberg story received around 550 million Twitter imprints worldwide and the level of interest it generated turned it into an ideal opportunity to educate the public on sewer blockages.
"The key to it is creating an interesting story," he said. "It would have been interesting by itself as a fatberg story, but it was the mystery of the Whitechapel connection as well. That's what made it."