#whatsinmywash campaign aims to cut plastic microfibre pollution
Environmental charity Hubbub has launched a campaign to raise awareness of the plastic microfibre pollution caused when clothes are washed.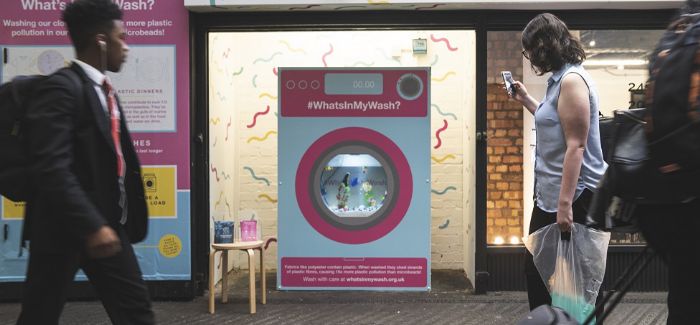 New research released by Hubbub has shown that 44 per cent of the public are completely unaware that microfibres – the microscopic fibres released into waterways when clothes are washed – often end up in food. 
Synthetic clothing is on the rise and now accounts for around 60 per cent of all clothing produced, but the survey of over 2,000 people across the UK showed 44 per cent do not realise that synthetic fibres such as polyester, acrylic or nylon are actually plastic. 
Whilst 71 per cent are aware of plastic microbeads and their impact on the environment, only 56 per cent know what microfibres are and these actually pose a much bigger problem. Half a million tonnes of plastic microfibres a year contribute to ocean pollution – 16 times more than the plastic microbeads from cosmetics.
An estimated 35 per cent of primary microplastics entering our oceans are released through the washing of textiles and studies have found these fibres in food, from mussels and table salt to honey and beer. 
Plastic microfibres absorb toxic chemicals and the long-term health impact of consuming these fibres has yet to be fully established.
Hubbub has suggested that wastewater treatment centres should set targets to limit microfibre pollution and tackle the remaining number of microfibres that do get released.
It added that plants filter 65–92 per cent of microfibres but still release a significant volume of waste into the environment.
Evidence given to the House of Commons' Environmental Audit Committee in 2016 raised concerns about the impact on critical diseases, health conditions and hormones. Little has been done since to address the issue and Hubbub's findings show this has left people concerned about the impact on their own health and on ocean life:
69 per cent of people are concerned about the impact microfibres are having on ocean life
56 per cent are concerned about the fact they or their family might be eating microfibres
68 per cent want to see more research into the long-term health implications of the microfibres in the food we eat
Hubbub has launched the #whatsinmywash campaign, providing tips for consumers to reduce the impact of their wash and calling on a range of industry sectors to take action to tackle the problem.
Trewin Restorick, CEO of Hubbub, said: "Plastic microfibres are ending up in our waterways, ecosystems and in our food and drink and we don't yet know what impact this will have. The issue is complicated and the messages are confusing. Our research suggests that levels of knowledge and awareness around microfibres amongst the public are low, so today we're launching some clear actions that consumers can take to help reduce the amount of microfibres released from household washing. 
"There is also an urgent need for more research and action at an industrial level – from exploring better filter systems in water treatment plants and washing machines to producing and selling clothes with less blends and tighter yarns.  It is critical that more is done to explore the potential impact on our health of eating food that contain these plastic particles." 
Peter Ackroyd MBE DL, COO of the Campaign for Wool, said: "The global retail industry is undergoing an unprecedented conversation about the impact of microplastics in the environment and in our daily lives. As our Patron HRH The Prince of Wales said recently, 'I find it sobering to think that almost all the plastic ever produced is still here somewhere on the planet in one form or another and will remain here for centuries to come, possibly thousands of years.' A return to great quality, long-lasting clothing made from natural fibres can help remedy this and we would urge the public to check clothes labels when shopping and look for fabrics that don't add to this problem."