Wessex Water trials innovative membrane aeration
Wessex Water is trialling technology inspired by the human body in its treatment of wastewater.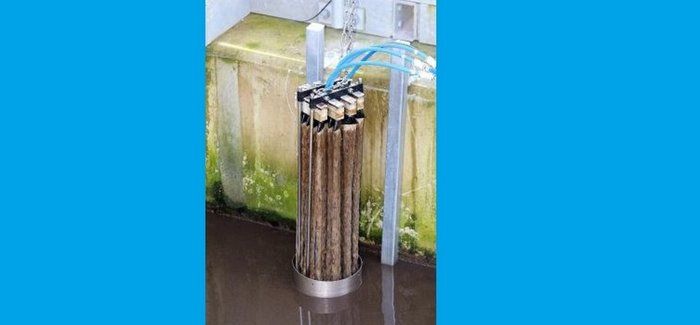 The OxyTube aerates wastewater without the need for bubbles
The company's optimisation and innovation team has embraced recent advances in aeration techniques with their deployment of the 'bubbleless' OxyTube, a Membrane Aerated Biofilm Reactor (MABR).
Provided by OxyMem, the portable device mimics the human body's capillary system by using gas-permeable fibre tubes to carry oxygen.
The technology could provide a less costly alternative to traditional methods of treating wastewater which see many older plants running close to peak treatment capacity and significant energy required to simply aerate and mix the bulk liquid.
Matthew Crowhurst, Wessex Water's optimisation and innovation team programme manager, said: "We've had a dialogue with OxyMem for several years and have been impressed with the potential advantages that the technology could bring.
"The 'bubbleless' process could hold the key to reducing aeration costs, and in doing so provide a more sustainable wastewater treatment method.
"We're trialling the small-scale OxyTube, which has been designed for practical demonstration purposes and can easily be dropped into and removed from any biological tank on our treatment facility."
OxyMem has operated MABR membranes on municipal wastewater for the past five years, during which time they have shown no degradation in performance or property.
The membranes have neither perforations or pores, meaning fouling is not an issue, and they rely on established biofilm to treat the wastewater pollutants. Biofilm growth can be measured if necessary and controlled to maintain optimum performance.
An MABR membrane cartridge lies within OxyTube's protective stainless steel housing, which is fed with air to ensure oxygen reaches the biofilm when required.
A pump is used to accurately control the flow through the MABR, meaning it is possible to establish the performance of the unit by measuring the concentration changes of ammonia and soluble chemical oxygen demand (COD) in the influent and effluent of the OxyTube.
These require no additional civil structure modifications, do not disrupt the existing process, require minimal or zero downtime to install and can boost a plant's capacity by up to 50%.
Modules can be placed wherever there is a biological load on site: anoxic tank, selector zones, aeration tank, balancing tanks or even adjacent to or within clarifiers. The chosen oxygen gradient and preference for COD removal and/or ammonia removal dictates the exact location for the unit.
Crowhurst added: "Longer term, we're considering the technology as a possible replacement or additional treatment system as sites approach their design capacity."
OxyMem's MABR technology was originally developed following research work at University College Dublin, Ireland, where research has been carried out on biofilm growth and its suitability for wastewater treatment for more than 20 years.