Wessex Water engages sixth formers with 'future customer' panel
Wessex Water is working with a panel of sixth form students in order to help the company focus on the future priorities of customers and engage young people with water.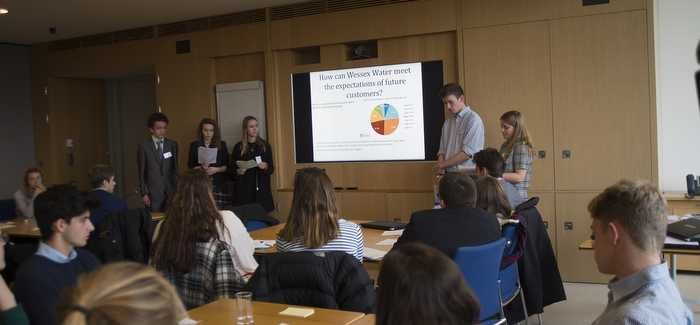 The students presented their ideas to senior figures at Wessex Water
The utility's Young People's Panel – a first for the UK water industry - was set up to hear from customers of the future with strong opinions about water, wastewater, the environment and what good service looks like.
The panel comprises 21 sixth form students from across the Wessex Water region who have had the opportunity to experience running a business, as well as receiving a formal reference for use in university or apprenticeship applications and a £100 reward.
Andy Pymer, managing director of Wessex Water Services, said: "The students came and spent a day with us to learn about the business, spending time with various managers.
"We then sent them away for a couple of months to collaborate in four different teams, looking at how we might promote water metering and also deliver fantastic customer service."
The students met again at the operations centre and presented their ideas to a panel that included Mr Pymer and director of customer policy and engagement Sue Lindsay. Trophies and prizes were presented to those with the best ideas, which Wessex Water has committed to taking forward as a business.
"We were joking about it being a bit like The Apprentice, giving the students a chance to pitch their ideas and see whether they flew or not," said Pymer.
"It's been really beneficial for us to engage with these young people and hear a whole load of ideas we hadn't really thought about before.
"These are our customers of the future, and they came and showed us how they use apps and how they would expect to interact with us.
"They were enthused about the work that Wessex Water does and we've had quite a lot of interest from them about working here in the future, so it's been a great opportunity to promote the company."
Explaining how she got involved in the panel, Lauren Simms, a student at Hardenhuish School in Chippenham, said: "We heard about it though geography at school and went through an application process before being selected.
"I enjoyed the variety of activities and being able to interact and share ideas with so many different people."
Taunton School's Edward Shattock added: "I had always taken water for granted, knowing it was there when I turned on the tap, but I went on a tour of the treatment works and I now know a lot more about it. 
"Before this I was definitely going to university but now I'm considering doing an apprenticeship instead."