Wessex Water backs cotton bud campaign
Wessex Water has put its weight behind an effort to prevent plastic cotton buds polluting rivers, beaches and the sea.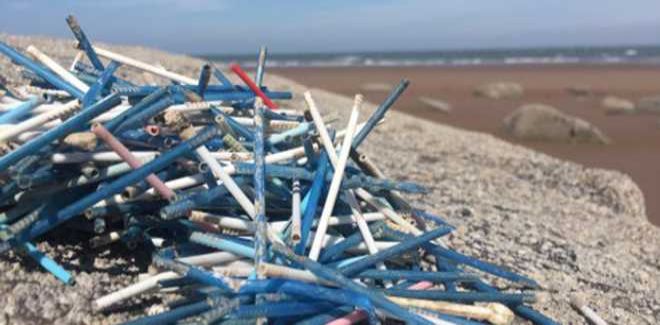 Plastic cotton buds on a beach
Bristol-based campaign group City to Sea has launched the Switch the Stick campaign, urging retailers to ditch cotton buds with plastic sticks in favour of biodegradable paper versions.
Millions of buds are flushed down toilets in the UK every year. Since they do not biodegrade they end up accumulating on beaches and rivers, where they break down into smaller pieces and can get eaten by birds, fish and other wildlife.
City to Sea founder and broadcaster Natalie Fee hopes to persuade thousands of people to sign a petition in favour of the switch, ahead of a meeting with major supermarkets and high street stores at the end of this month.
The campaign follows a new report by the Marine Conservation Society, which found that the amount of plastic waste dumped on UK beaches has soared by a third in the last year. Cotton buds are among the top five plastic items found - alongside bottles, bottle tops, crisp packets and smaller plastic fragments.
"We do everything we can through our sewerage processes to prevent cotton buds reaching the environment, but the size and shape of them means they can pass through the filters," said Wessex Water's director of assets and compliance Matt Wheeldon. 
"While we don't endorse flushing anything other than the three Ps - pee, poo and paper - a biodegradable alternative to plastic cotton buds would not only reduce marine plastic pollution but also reduce the huge amount of plastic that reaches our treatment plants and ends up in landfill sites."
Paper stems swell on contact with water and are much less likely to escape sewage filters. Even if they do, they are non-harmful to marine wildlife and quickly biodegrade - unlike plastic which can take as long as 400 years to break down. 
Natalie said: "Clearly cotton buds shouldn't be flushed in the first place but, seeing as millions of people aren't getting that message, we need to tackle the problem higher up with retailers and manufacturers. 
"Unlike many problem plastics like drinks bottles and food packaging, cotton buds can easily be made out of paper. There's a simple, affordable solution for us as shoppers and for the manufacturers. 
"Like many other beach lovers here in the UK, I've had enough of picking hundreds of them up each time I go for a walk." 
City to Sea will continue to raise awareness of the issue while lobbying retailers and manufacturers to 'switch the stick' throughout 2017. Paper stem cotton buds are currently sold in Marks and Spencer, John Lewis and Co-op Food.