Wessex teams up with Sydney Water to extend sewer's life
Wessex Water has formed a partnership with Sydney Water that it expects to help prolong the life of a Bournemouth sewer by 200 years.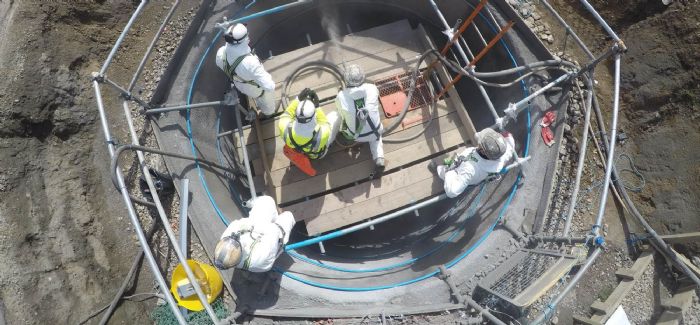 Built between 1964 and 1971, the coastal interceptor sewer (CIS) is eight kilometres long and 1.8m in diameter and serves a population of around 34,500.
Surveys revealed that the first 200 metres of the tunnel had suffered biogenic corrosion, meaning it needed to be re-lined to prevent collapse.
The tunnel receives a maximum flow rate of 650 litres per second from two rising mains – the Hengistbury Head (500mm diameter) and the Ilford (400mm diameter). 
Julian Britton, Wessex Water's trenchless technology programme manager, said: "The Ilford rising main is long and has a reduced number of starts, resulting in the sewage resting quiescent for long periods of time.
"Consequently, anaerobic conditions allow the formation of hydrogen sulphide, which converts to sulphuric acid via bacteria that feeds upon the nutrients readily available. This in turn corrodes the concrete."
Wessex Water commissioned Dr Ian Bateman, a leading networks consultant from Australia, to verify the effectiveness of calcium aluminate cement (CAC) and its ability to resist high levels of sulphuric acid.
Little was known about CAC as a corrosion barrier in European sewerage systems, yet Sydney Water was known to have used the material for concrete protection for more than 15 years. 
Nathan Hand, critical sewers engineer at Wessex Water, said: "CAC has the advantage of greater resistance to hydrogen sulphide attack, down to a pH of 3.5, and forms a gel layer on its surface.
"We spent a lot of time researching it in collaboration with Sydney Water, and we're the first water company in the UK to use this product to line a sewer."
The £1 million Bournemouth CIS project is due for completion at the end of May and embraces both new concepts and historic solutions. 
"We used the latest 3D Building Information Modelling (BIM) technology to locate the sewer underground and managed to sink a shaft within 50mm of the side of the sewer," Hand said.
"We're looking to remove some of the energy from the sewage and reduce the turbulence, as this is what releases the hydrogen sulphide gas and causes corrosion.
"To do this we're using an energy dissipating vortex, using technology that was originally invented by the predecessors of Wessex Water, Bristol City Council, back in the 1950s.
"We've kept customers informed to minimise disruption to them, carrying out letter drops and sending text messages at weekends.
"This scheme will ultimately prolong the life of the asset by up to 200 years."