Welsh Water warns over low reservoir levels
Dŵr Cymru Welsh Water has urged its customers to avoid wasting water to allow reservoirs to recover after the prolonged dry spell.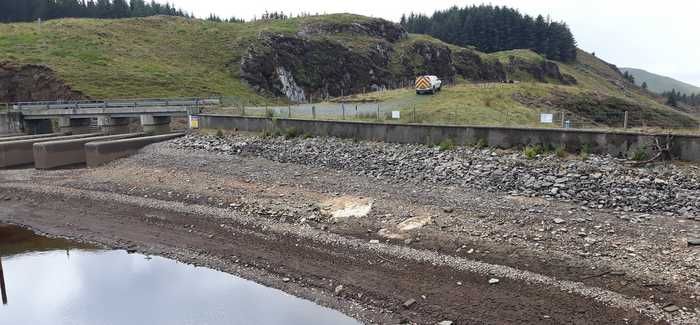 Craig-y-Pistyll reservoir in Ceredigion
The utility issued the warning alongside pictures of some of its reservoirs, which are below average for the time of year, after months of minimal rainfall.
The company said that while it was managing its network to ensure supplies were maintained, little rain is forecast in the foreseeable future and customers need to do all they can to use water wisely to make sure reservoir stocks are maintained if the dry weather continues in the autumn and winter.
The not-for-profit company said despite some rain across its operating area last weekend, some reservoirs remained lower than usual for the time of year and would be under greater pressure if the dry spell persisted.
Welsh Water is responsible for maintaining 91 reservoirs across the areas it serves, holding around as much water as 125,000 Olympic swimming pools.
Reservoirs hold most of the water that Welsh Water draws upon to supply drinking water to its customers – which has meant it has drawn on them more to meet increased demand during the hot weather.
It confirmed that reservoirs were still below what it would expect for this time of year, with June already confirmed as the hottest on record in Wales, with temperatures reaching around 31C in some parts, with just 24% of the average rainfall expected at this time of year.
Welsh Water also released pictures of Beacons Reservoir in the Taff Fawr valley, Craig-y-Pistyll in Ceredigion, and Ffynnon Llugwy in Snowdonia to show how levels remain low in some areas despite the recent rain.
The utility has been proactively taking measures for the last two months to safeguard customer supplies and prepare for the hot weather, with 450 employees finding and repairing leaks and its 62 water treatment works being manned 24/7 to help supply a record 1 billion litres a day.
It has been using 40 tankers to pump extra water into the system to meet demand, while it has moved more than 1,000 million litres of water to ensure customer supply is preserved, since the dry spell began.
Managing Director of Dŵr Cymru Welsh Water, Peter Perry, said: "While we have seen some welcome rain in some areas in the last week, this has only had a limited effect on the level of our reservoirs. After such a lengthy period of dry weather over the past two months, we need some sustained rainfall for all of our reservoirs to return to their normal levels.
"We have been working continuously to find and repair leaks across our network, as well as pumping more than 200 million more litres of water into the network every day to ensure customers' supplies remain as normal.
"But we need customers to help us while the weather remains dry – not only by letting us know if they spot a leak themselves, but by only using the water they need while it's hot, but not to waste it. Customers can get advice on our top ten tips of how to use water efficiently around the home and garden from our website."