Welsh Water to manage rainwater with RainScape project
Work on Dwr Cymru Welsh Water's new £2M RainScape scheme has now started in the Glevering Street and Swansea Road area of Llanelli. The project is part of a £15M investment by the company in sustainable schemes to manage surface water in the town, and will reduce sewage flooding and spillages into the Loughor Estuary.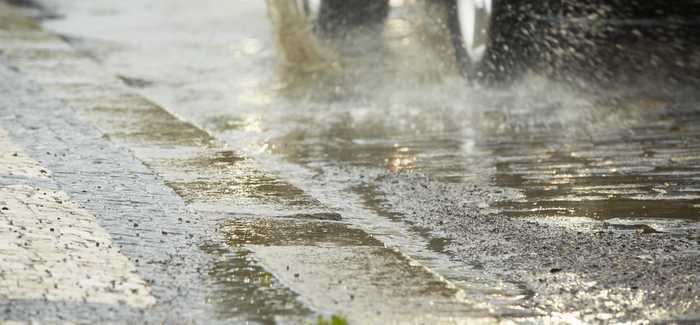 RainScape is designed to reduce the surface water run-off currently entering the sewerage network
The RainScape scheme is aimed at managing rainwater. It will reduce the amount of rainwater that flows into local public drainage systems, therefore reducing the risk of flooding and sewer spillages into the estuary.
It is designed to reduce the surface water run-off currently entering the sewerage network in the area. The innovative surface water management techniques, developed in partnership with Carmarthenshire County Council, will include installing attractive planted areas that will absorb the water, and innovative drainage curbs.
Dwr Cymru Welsh Water  said that whilst there are some "excellent international examples of this type of scheme" including in Malmo (Sweden) and Portland (US), the Llanelli RainScape schemes are the first of their kind in the UK.
The scheme is particularly needed in the area as Llanelli sees almost as much stormwater in its network as Swansea, despite the fact that Swansea serves three times the number of properties, and three times the area compared with Llanelli.
Chris Jones, chief executive for Dwr Cymru Welsh Water, said: "The delivery of RainScape is a sustainable, future proof system that will significantly reduce the risk of sewer flooding in the local area. We are proud of the fact that it is the first of its kind anywhere in the UK and it reflects our goals to reduce our impact on the environment and provide our customers with a first class service.
"The international examples which are guiding our work, clearly demonstrate that short-term work now will bring significant long-term benefits. In both instances the sustainable drainage schemes have reduced flooding, enhanced biodiversity and helped regeneration. We expect this innovative and sustainable approach to bring similar benefits to Llanelli and the surrounding area."
Carmarthenshire County Council executive board member for Technical Services, Cllr Colin Evans said: "The authority are very pleased to be working with Dwr Cymru Welsh Water and other partners in delivering solutions to problems brought about by climate change; this scheme is innovative and a sustainable solution, one of a number required to meet challenges brought about by changes in our environment while also accommodating economic growth."