Welsh Water selects Forced Bed Aeration for sewage treatment
Dwr Cymru Welsh Water has upgraded two of the four existing reed beds at its Kingstone and Madley Wastewater Treatment Works (WwTW) in Herefordshire with Forced Bed Aeration (FBA). It is the first time that the company has invested in FBA technology to treat sewage at one of its treatment works.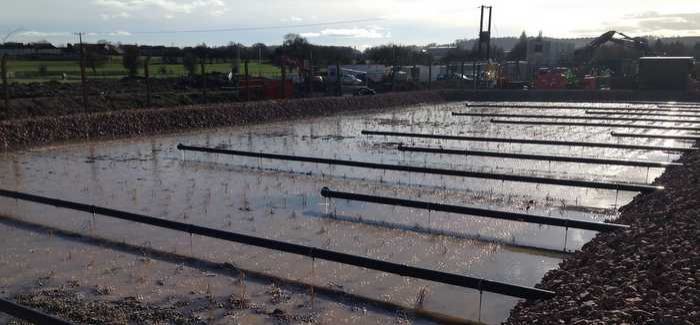 Adopting FBA technology for two of the reeds enables increased treatment capacity
Welsh Water and framework partner Imtech Water, Waste & Energy has worked with ARM Reed Beds on the project.
Back in 1987 Welsh Water commissioned the original installation of four parallel horizontal flow passive reed beds to provide final polishing to the effluent prior to discharge to the local watercourse. During the past 25 years these had become clogged with plant growth and sludge deposits resulting in the short circuiting of flow across the reed beds, reducing treatment capacity.
Whilst refurbishment offered a short-term solution, to help meet discharge consent of 1mg/l of ammonia set by the Environment Agency (EA), two of the reed beds have been retrofitted with FBA technology to increase treatment capacity to cope with the demands of an increasing population and enhance the quality of discharged effluent.
Owain Picton, project manager at Imtech, explained: "An ever increasing population coupled with tighter discharge consents meant that the treatment capacity of the existing system was not suitable for the changing demographic. By upgrading and retrofitting FBAto two of the existing reed beds we have increased oxygen availability ─ essential for the removal of BOD and ammonia and all within the existing footprint.
"By working closely with ARM we were able to utilise the existing system to create a bespoke solution which met Welsh Water's exact requirements. Delivered within just four months we were also able to keep the site fully operational which was vital."
BOD consents
Picton added: "The use of FBA technology means Welsh Water is now able to meet the tight ammonia and BOD consents with ease, an integral factor in complying with the regulations set out by the Environment Agency."
The new system was designed based on the upstream process consisting of a primary settlement tank, trickling filters and humus tank.  Effluent from the existing and newly built system is now fed into a new direction chamber which feeds into the retrofitted reed beds.
ARM director Tori Sellers said: "Whilst Kingstone and Madley had been operating effectively, the increase in the volume of effluent requiring treatment meant a more efficient system was required. Passive systems have limitations but when retrofitted with FBA technology they can provide the efficiency required as it increases treatment capability by up to 15 times that of a traditional reed bed all within the same footprint of the existing infrastructure.
"Once installed, aerated reed bed systems require very little power to operate and can reduce opex and capex costs."