Welsh Water names contractors on renewable energy programme
Welsh Water has named HBS New Energies, Absolute Solar and Wind, Centrica and Anesco as the principal PV contractors to deliver phase 2 of its Glas Advantage Renewable Energy Programme.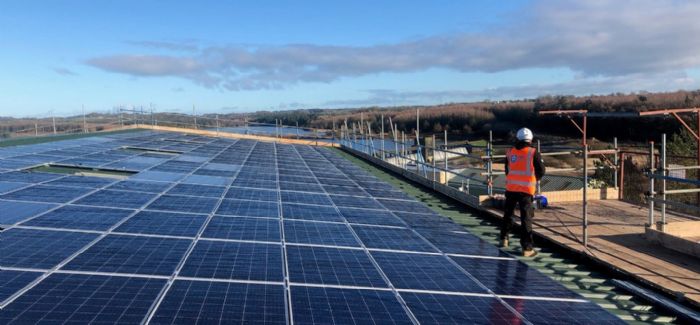 250kWp roof mounted PV array at Cefni WWTW, designed and installed by HBS New Energies
The framework will see a combination of ground-mounted, floating and rooftop solar PV systems developed across 21 water and wastewater treatment sites, enabling the company to take a major step towards becoming a world-class, resilient and sustainable water service.
Welsh Water already boasts more than 6MW of solar assets across its portfolio of water treatment facilities but, with an annual energy consumption of 460GWh, its operations require vast amounts of electricity to provide critical water and wastewater services to its service network.
This second phase of solar projects is set to help Welsh Water press ahead with its ambitions to harness more solar power, providing significant inroads to achieving its 30 per cent onsite renewable energy generation target by the end of 2019.
HBS New Energies has been successful in securing two lots from a possible four on the two-year framework. With a total capacity of more than 3.4MWp, the roof- and ground-mounted solar projects will vary in size from 50 kWp up to 1MWp.
Earlier this year, HBS New Energies kickstarted Welsh Water's latest solar programme, successfully completing phase 1 against tight deadlines and challenging weather conditions.
By retro-fitting a range of roof-integrated and fixed framework PV systems, HBS unlocked the value of unused roof space at five water and wastewater treatment sites. The solar panels are now helping to power the Welsh water utility's operations with reliable and cost effective zero-carbon electricity.
Its team is now in the process of conducting in-depth feasibility, surveys and coordinating final system designs ready for submission. HBS will be managing every aspect of design, development, supply, construction and operation and maintenance of the solar PV installations.
James Bull, managing director at HBS New Energies, said: "Being appointed as one of Welsh Water's strategic solar delivery partners is a great achievement for HBS and continues our strategy of working alongside forward-thinking UK water utilities.
"With firm aims to become more self-sufficient in its energy generation, this significant deployment of on-site solar projects will play a key role in helping Welsh Water take control of energy costs and move closer to achieving its carbon reduction target.
"We are looking forward to be partnering once again with Welsh Water and drive forward the next phase of this exciting solar programme."