Welsh Water lab brings testing home
Dwr Cymru Welsh Water (DCWW) is celebrating the opening of its new £10.4M water testing laboratory today, which will bring its microbiological and chemical testing in- house. Company chairman John Bryant will do the honours at the facility, which is located in a former HSBC building in Tredegar Park, Newport.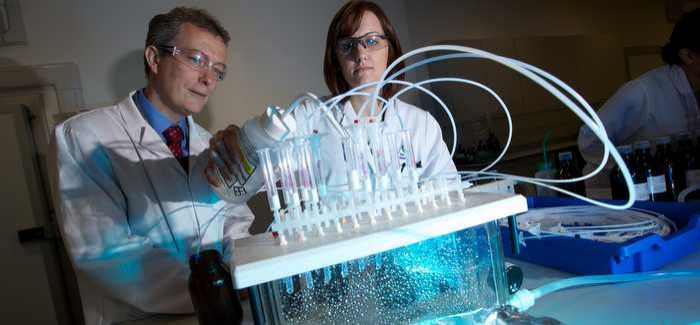 Testing times €" Welsh Water scientists get to work at the new lab
The utility, which employs 50 people, carries out around 750,000 analyses of drinking water samples every year to ensure quality potable supply for its 3M customers. Previously, this work was contracted out to external companies will now be carried out in Newport and at Bretton in north Wales
The Glaslyn laboratory boasts a solar panel array on the roof of the building to generate electricity for the site and reduce carbon footprint. The location also incorporates DCWW's RainScape sustainable drainage scheme, which redirects rainwater from the 2,323m2 roof into planters and landscaped channels. DCWW said this helps reduce surface water and the associated cost of treating it, whilst greening the local landscape.
Welsh Water's chief operating officer, Peter Perry, said: "We have invested in the latest analytical technology to make Glaslyn a real centre of excellence, using automation wherever possible to drive down costs to our customers and streamline our processes. The hard work and professionalism of this team enabled us to bring this vital work in-house in under 12 months from the start of the project.
"We have already begun developing links with local universities in order to further develop this centre of excellence."
Glas Cymru chairman John Bryant said: "The expertise we have at the laboratory will be a huge asset to Dŵr Cymru and the people we serve for many years to come. We hope it will make a significant contribution to the Welsh economy through the scientific knowledge we're able to develop."
Welsh Water, which is mutally owned, is investing £1.4B between 2010 and 2015.