Welsh Water invests £9M in innovation projects
Dwr Cymru Welsh Water has invested almost £9M in innovation projects over the past 12 months to help improve services for customers and protect the environment.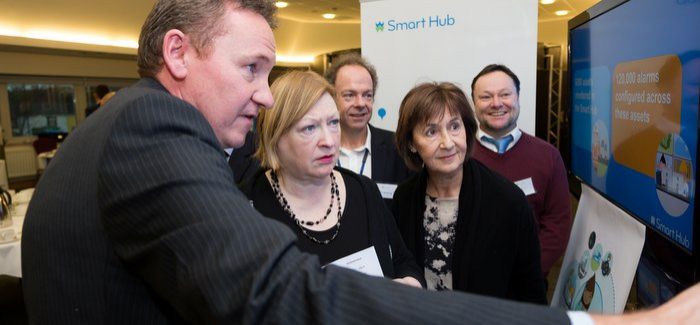 Welsh Water's Lynn Parry shows Edwina Hart features of the company's Smart Hub
Delegates attending Welsh Water's Innovation Conference in Swansea last week had the opportunity to see some of the projects including a demonstration of the company's new 3D design simulator, the igloo 360. The simulator allows 3D models to be projected in a 360 degree immersed environment, enabling virtual site visits to be conducted, and helping to plan investment schemes ahead of time without the need to travel to site.
Welsh Water's innovation projects include:
An £8M investment in a two-year coastal investigations programme at 49 sites around the Welsh coastline, which includes field oceanographic surveys, monitoring water quality in rivers, surface water drains and the sewer network
The Smart Networks project uses data analysis models to target operational activity to reduce sewer blockages before customers are affected
Investing in renewable energy to reduce costs and carbon footprint. More than £24M has so far been invested at Welsh Water's Five Fords WwTW near Wrexham
Developing Welsh Water colleagues through a range of learning and development programmes to enhance innovation capacity 
Speaking at the event, Edwina Hart, minister for Economy, Science and Transport said: "The need for innovative Welsh businesses is bigger than ever. Supporting and encouraging a culture of open innovation in Wales is a fundamental tenet of our strategy, Innovation Wales.  We are working with industry, academia and research organisations to deliver more innovative projects in the strategically important areas of science, engineering and technology. Only through collaborative working will new products, processes and services emerge, contributing to the success of Welsh businesses and economic growth."
Welsh Water's chief operating officer, Peter Perry, said: "Our second annual innovation event has been a great success, bringing together industry experts, leading researchers, environment bodies and Welsh Government, to share innovation successes and best practice.Our aim is to earn the trust of our customers every day and we know we can only do this by providing the best possible service at the most affordable price, whilst also protecting the environment in our care. Driving innovation forward helps us to create greener communities, limit our impact on the environment, provide the highest quality of drinking water and lower our costs - all to the benefits of our customers."