Welsh Water invests £31M to expand Bryn Cowlyd WTW
A £31M investment scheme to ensure nearly 100,000 customers in Llandudno, Colwyn Bay, Conwy and surrounding areas continue to receive a top quality drinking water supply is now underway at Dwr Cymru Welsh Water.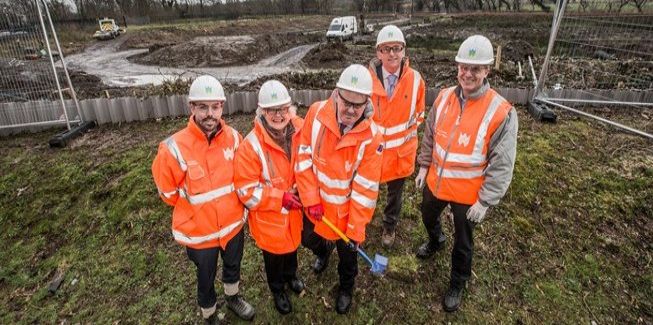 The scheme involves expanding the water treatment works at Bryn Cowlyd in Dolgarrog and is expected to be completed in December 2017. It is the largest investment on a treatment works by Welsh Water in its current £1.7bn investment programme.
To mark the start of the work, Member of Parliament for Conwy Guto Bebb and local Councilor Hillary Rogers-Jones were invited to cut the turf on the area where the expansion to the work will be built.
Speaking after cutting the soil, Bebb said: "The treatment works at Bryn Cowlyd supplies a significant number of residents as well as visitors to the area with high quality drinking water. It's great to see Welsh Water investing at this treatment works to ensure that this service continues for decades to come. It is also great to see local contractors working on the site, this ensures that the investment made to the site has a wider effect on the local community and economy."
Rogers-Jones added: "This is a significant investment in the area which of course brings with it substantial construction work. However, the improvement to this treatment works is going to be important in the future, ensuring a continued safe and clean drinking water supply to the area."
The current treatment works at Bryn Cowlyd was built in 1998 and draws water from Llyn Cowlyd in the Carneddau Mountains. It has supplied 44,000 homes and businesses in the Conwy Valley for nearly 20 years.
The expansion to Bryn Cowlyd will be built on the current site next to the existing treatment works and although will be mostly concealed from the road by trees, the buildings will be sympathetic to their surroundings and similar to those already on site.