Welsh Water announces record capital investment for last six months
Dwr Cymru Welsh Water has confirmed record capital investment of £219 million in the last six months (April to September) to maintain and improve the resilience of its water and wastewater services.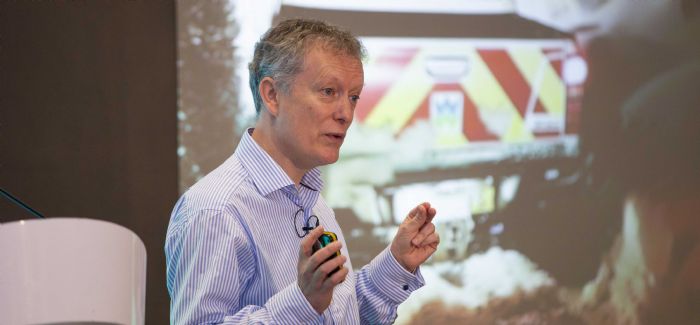 Welsh Water chief executive Chris Jones said this year had showed the importance of investing in resilience
The company's half-year financial report shows it expects to invest a total of £460 million in the year to March 2019. 
During 2018 to date, Welsh Water has responded to three major weather events, including a drought over the summer that was drier than 1976 and some of the worst flooding experienced in the last 50 years in parts of south Wales last month as a result of Storm Callum.
Although there was some localised disruption, serious impact on customers was largely avoided as a result of our continued investment in resilience and the significant efforts of our people to keep services for customers on track.
The company's latest investment to improve the resilience of its services includes:
The 'Pipes in Dams' programme that ensures its dams – some of which were built in Victorian and Edwardian times – are ready to meet the challenges of a changing climate for generations to come. This programme includes a £10 million modernisation of the Talybont dam in the Brecon Beacons, using divers and remotely operated submersible vehicles across several months to upgrade the pipework inside the dam without impacting on drinking water supplies to over 30,000 households
Progressing the award-winning RainScape programme to use natural means to stop rainwater entering the sewer system in Llanelli, which has been credited locally with helping the town escape the worst of Storm Callum in mid-October. RainScape's success has led to a second major sustainable urban drainage scheme – in partnership with Cardiff Council and Natural Resources Wales – to drastically reduce the amount of rainwater entering the sewer network in Grangetown, Cardiff
These projects are part of Welsh Water's focus on investing now to bolster resilience over the long-term – an approach backed by the company's customers during the Have Your Say consultation and embodied in  the company's Welsh Water 2050 vision.
Independent research released in August – published by the consumer body CCWater – showed Welsh Water was the most trusted water and sewerage company in England and Wales, and the highest-rated for value for money and customer satisfaction.
The company also confirmed that its average household customer bills in 2018 were held below the Retail Prices Index measure of inflation for the ninth year in a row, and that it remains on course for a decade of below-inflation price rises by 2020. It also now supports with its range of social tariffs more than 100,000 customers who genuinely struggle to pay their bills, at a cost to the company of £7 million a year.
Glas Cymru non-executive chairman Alastair Lyons said: "The last six months have been exceptionally challenging for the company with a number of weather-related events testing how we can maintain services to customers in the most difficult circumstances.
"Despite these challenges, we have managed to maintain good overall performance in meeting our key customer service goals and ensuring our bills are affordable for customers, in no small part down to the fantastic response and hard work of our people and partner organisations."
Welsh Water chief executive Chris Jones said: "Already in 2018 we have experienced several instances of volatile weather events – including the longest drought that we've had in more than a century. This shows that our long-term plan to invest in resilience is necessary to ensure we can continue to earn the trust of our customers – both now and for generations to come.
"We always aim to balance investment in our services to meet our customers' expectations with making sure our bills are affordable. Our record investment in the first six months of the year, alongside our pledge to peg bill rises below RPI inflation for 10 years to 2020, means we are on track to achieve this."