Welsh Government wants review of English water supply deal
Wales will need to consider the "availability and value" of the water it supplies to England in light of growing climate challenges, the Welsh government's director of environment and rural affairs, Tim Render, told the WWT Wales Water Conference yesterday (17 May).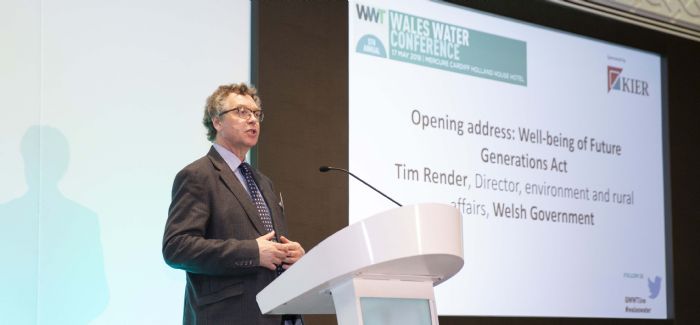 The Elan Valley Aqueduct has been supplying fresh water to Birmingham from mid-Wales for more than a century and carries 320 million litres every day.
In 2012, former Welsh Water chairman John Elfed Jones questioned whether it was "fair" that Welsh Water did not profit from the arrangement, telling the BBC: "It's about time we took this option seriously. It's a lack of energy and vision which leads us to be in difficulties often."
Speaking at the conference in Cardiff, Render indicated that the issue should be re-examined as England again grapples with the prospect of future water shortages.
"Water companies need to prepare their water resource management plans for how to balance supply and demand over the next 25 years," he told delegates. "That's OK in Wales; it's a huge challenge in England.
"There are already areas of England at serious risk of drought, and those challenges are getting more severe as a result of climate change. The National Infrastructure Commission issued a report that said in its view over the next 30 years there's a one-in-four chance that large areas of England will lose water supply for a substantial period because of drought.
"The questions about where England gets its water from are going to come to the fore. For many English cities, the answer historically has been Wales, and we will need to think about what that means for us, both in terms of availability and value to Wales. That increased pressure on demand will need to be carefully thought through."
Within Wales, the primary focus in terms of climate change has been flooding, and Welsh Water chief executive Chris Jones told the conference that his company is relying on "innovation, efficiency and collaboration" as it seeks to balance the need to keep bills affordable with investment in tackling its long-term challenges.
He said "game-changing innovation is something we all aspire to because it is something that will allow us to do what we want at a price we can afford" and that Welsh Water was seeking to maximise the chances of bringing that about by identifying and making clear the problems it faces through its Welsh Water 2050 report.
He added: "To do more for today's customers and tomorrow's customers, we need to do things better."
He also outlined the continued importance of looking at international best practice, which had been key to the company's impressive work in sustainable urban drainage. He discussed how Welsh Water looked at the 100 Resilient Cities initiative, which was developed by the Rockefeller Institution following severe weather events in New York, and produced its own nine-feature resilience model in conjunction with Arup.
The Welsh Water Resilience Wheel includes nine sections under the broad headings finance and governance, people, and infrastructure and environment: 
Ensuring robust finances and benefits to the economy
Providing affordability and value for money
Enabling effective governance, leadership and strategy
Protecting public health
Meeting customer expectations
Working as an integrated team
Delivering sustainable energy and resources
Safeguarding and enhancing the environment
Implementing effective asset management systems
"It is all about having resilience in the round, which is why we call it our Resilience Wheel," Jones said. "It's no good having good assets if you haven't got good customer support."
Welsh Water has also developed 18 strategic responses that incorporate ideas like safeguarding drinking water through catchment management, working towards a lead-free Wales, using nature to reduce flood risk and pollution, and ensuring affordability for all customers.
Wales dealt with its biggest weather event for a decade earlier this year with Storm Emma and the Beast from the East, and Jones said the response to that event, while positive overall, showed there is always scope for improvement.
"We have to be very mindful of the impact of any failure of service for our customers," he said. "Overall, the feedback from customers was that we'd done a pretty good job in responding to that challenge. Research we've just had done independently shows that, of the customers who were without water for a period, 70 per cent were satisfied and 10 per cent were dissatisfied.
"That's not as good as our normal stats. It's not bad but it does definitely show there are lessons to learn, which we are acting on. If we let customers down, we have to see that as a learning opportunity."
The WWT Wales Water Conference was held on May 17th in Cardiff and was sponsored by Kier Group.