Welsh AM checks out AAD at Afan WwTW
Welsh Assembly member Peter Black, South Wales West AM, has visited Dwr Cymru Welsh Water's (DCWW) Afan Wastewater Treatment work to see the innovative £27M Advanced Anaerobic Digestion (AAD) facility, which produces green energy from treated waste.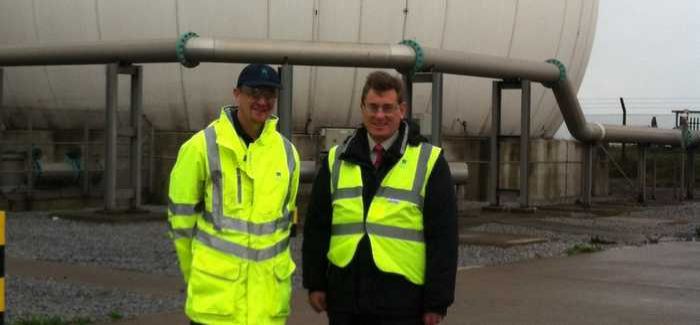 Peter Black (right) with DCWW site lead technical operator Chris Davies
Afan, which serves parts of Port Talbot and the Afan Valley, occupies a small footprint as a result its hi-tech processes. The self-sufficient works is just one of the not-for-profit company's recent investment projects and generates enough electricity to power more than 3,500 homes.
Commenting on his visit, Black said: "It was a pleasure to be able to visit such an important facility. The work involved in ensuring that people receive the best quality water and wastewater service is essential.
"I was pleased to see how Welsh Water are doing this whilst reducing their energy use and protecting our environment for future generations."
Chris Davies, Dwr Cymru's lead technical operator at the site, said: "We were delighted to welcome Mr Black to our treatment works to show him how recent investment at facilities like Afan is helping to deliver benefits for customers and the local environment.
"Our facility is at the forefront of technology. The green energy plant has saved Welsh Water £2.5M a year, which helps to keep bills down for customers, and also reduces our carbon footprint by 10,000 tonnes of carbon per year."