Weholite pipe supplied for new UV treatment facility
Asset International has made and supplied hundreds of metres of lightweight, durable Weholite pipework and fabrications for a new UV treatment facility at Bristol Water's Barrow Gurney works.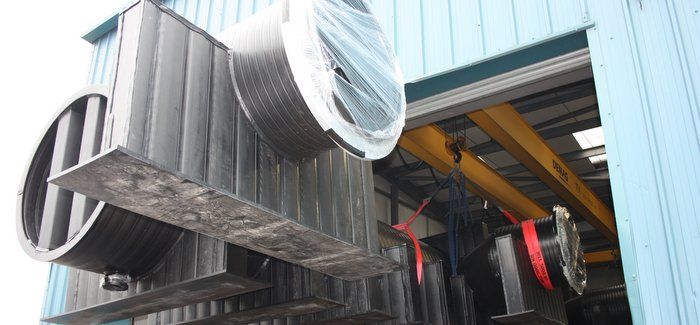 The company provided BAM Nuttall with an extensive array of inter-process pipework – measuring 1,000mm to 1,400mm diameter – as well as complex fabrications for the £3M project at the Barrow Gurney works, which treats water from three reservoirs serving the city.
The new UV treatment facility at Barrow Gurney accommodates both the process units themselves and the pipework and services supplying them. Weholite pipework now links these units to the rest of the treatment equipment at the site.
In addition, Weholite fabrications, modelled through FE Analysis by Asset's engineering design team, were used to connect inter-process pipelines to ductile iron valves, flow meters and static mixers.  The product's unique, designed-in versatility enables it to interface with virtually any existing design.
Commenting on their decision to use Weholite, Martin Wearn of BAM Nuttall, said: "The benefits of utilising Weholite pipework have to be the reduced lead-in times for fabrication and its low overall weight, when compared to that of traditional material pipework."
This was reinforced by Rex Lewis, from Bristol Water, who said: "In certain low pressure situations, the use of Weholite pipe provides a very versatile and cost-effective solution."
Rhys Williams, technical sales engineer at Asset described how the team delivered the project. He said: "During the planning process – and every subsequent stage of the project – we provided a full and detailed design service, technical support and advice to ensure everything ran smoothly. We also supplied a site services team to assist BAM Nuttall, to conduct extrusion jointing, using our latest specialist equipment. Following successful installation, we passed the project on to mechanical and electrical contractors."