Waterproofing completed on Lee Tunnel pumping shaft
Thames Water has used a waterproofing membrane system designed for confined spaces on the Lee Tunnel Beckton Pumping Shaft. The shaft is one of a number of large tunnels carrying wastewater away to the Beckton treatment works.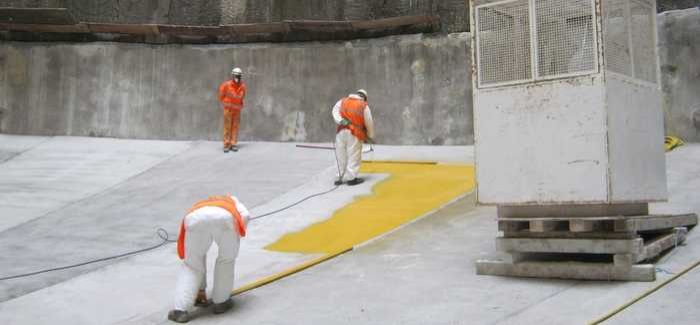 Protective membrane is applied within the pumping shaft
The Lee Tunnel is a key part of this Thames Tideway project and the first phase of sewer system improvements which will help prevent combined discharges of stormwater and sewage reaching the River Thames and lower River Lee. At 82m deep and 42m wide, the Beckton Pumping Shaft is the largest shaft in the project, enabling pumping of effluent from the Lee Tunnel itself.
Main contractor MVB (a joint venture between Morgan Sindall, Vinci and Bachy Soletanche) specified Stirling Lloyd's Integritank HF membrane to waterproof the shaft's concave base and lower walls. Designed specifically for installation in confined spaces such as tunnels and shafts, Stirling Lloyd said Integritank HF is a spray-applied polymer membrane that combines rapid application and cure with high impermeability.
Following the application, a protective screed was laid and an 11,000t concrete base slab was cast in place. An inner structural wall was then cast by continuous slip-forming and the annulus between this and the diaphragm wall in-filled.
To house the manifold that carries the liquids into the shaft, a suction culvert was constructed on the base slab and this culvert was also waterproofed with Integritank HF, as were the shaft's rendered walls, up to a height of 1.8m.
The shaft's concave base slab was made up of several 150mm thick cast in-situ concrete segments to minimise the possibility of shrinkage cracks. To ensure that any movement at these segment joints could be controlled, authorised contractor, Stirling Lloyd Construction also applied a scrim-reinforced stripe coat of Integritank HF prior to membrane installation to provide additional tensile strength across the joint.
To confirm its water tightness, Stirling Lloyd Construction completed the installation by testing the membrane electrically, in-situ, using 'holiday detection testing', which confirmed that the membrane was fully waterproof.
The Lee Tunnel Pumping Shaft is critical to the movement of wastewater to Europe's largest wastewater treatment works in Beckton, East London, and Stirling Lloyd said the successful completion of its waterproofing has ensured the effective containment of stormwater and sewage.