Waterless loo wins million dollar grant
A London-based company has been awarded a £652,000 (US$1M) grant from the Bill & Melinda Gates Foundation to expand its pioneering waterless toilet systems in Madagascar and sub-Saharan Africa.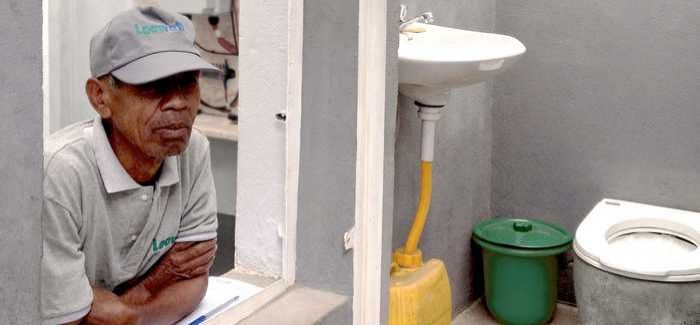 The toilet system uses a sealing mechanism to package human waste
The Foundation's investment will enable Loowatt to test its technology and business model in Madagascar with the goal of having 100 Loowatt waterless toilets in use over the next two years.
In 2011 Loowatt received an initial Grand Challenges Explorations (GCE) grant from the Gates Foundation, enabling the company to implement a pilot system in an impoverished neighbourhood of Antananarivo, Madagascar's capital. The new GCE grant will fund a sizeable expansion of the Loowatt project in urban areas seriously and chronically lacking in adequate sanitation facilities.
"This grant creates a springboard for global impact, preparing Loowatt to deliver clean and profitable sanitation to millions of customers in Madagascar, and elsewhere in Sub-Saharan Africa, and eventually the rest of the world," said Virginia Gardiner, Loowatt founder and chief executive.
The Loowatt waterless toilet system uses a patented sealing mechanism to package human waste into an odourless cartridge wrapped in a biodegradable polymer film. The film, which lines the toilet bowl, is pulled through a mechanical sealer when the toilet is 'flushed', enclosing the waste in a removable cartridge.
The cartridge is then emptied into a digester, which converts the waste into natural gas and fertiliser. The system does not generate waste products or carbon emissions. It produces naturally generated heat in thermophillic composting, and methane from organic decay is captured to create energy and not released into the atmosphere.
Loowatt's Energy Unit, piloted in Madagascar since 2012, links small-scale digesters to public toilets serving up to 100 users a day. In addition to the sanitation benefits of a clean and odourless toilet system, the Energy Unit provides saleable energy products, such as mobile phone and battery charging and hot water for cleaning and cooking. And a nearby compost facility converts waste matter from the digesters it into marketable, high-grade fertiliser.
"It is touching to see first-hand the impact Loowatt has had on the local community after operating for such a short period of time," said Jackson Paterno, Loowatt's Madagascar team leader. "We are providing the Malagasy people with a vital service at an affordable price, which would otherwise be unattainable."
As of 2010 only 21% of Madagascar's population had improved sanitation facilities, while 28% had unimproved shared facilities, and the remaining 51% practiced open defecation and other unimproved methods. A report Loowatt commissioned in conjunction with Cranfield University revealed that in the neighbourhood where Loowatt's pilot is located, households average six residents with two workers earning a mean wage of US$2.20 each per day.
These households spend, on average, 11% of their incomes on cooking fuel and electricity and 2% on sanitation, mostly at paid public blocks shared latrines. Ninety per cent lack running water at home.  Loowatt's energy and revenue generating waterless toilet systems are designed especially for such communities.
Loowatt was founded in 2009 as the outgrowth of Gardiner's industrial design master's degree project at London's Royal College of Art. The company gained initial support from RCA through its InnovationRCA business incubator and has since received support from private investors, the Gates Foundation and the Technology Strategy Board.