WaterAid and Anglian Water tackle Nepal water poverty
International charity WaterAid has joined forces with Anglian Water and its supply chain partners, to help bring safe water supplies to the people of Lahan, Nepal, as they embark on first stage of the €~Beacon Project'.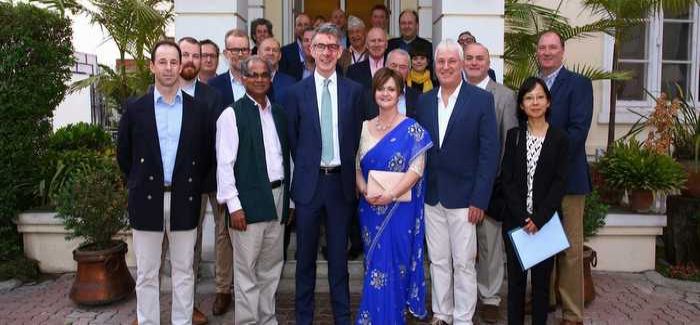 The delegation outside the British embassy (Photo: WaterAid)
One in ten people in Nepal don't have clean water close to home, and almost half the population live without a decent toilet. Inevitably this scenario, combined with poor hygiene, impacts seriously on daily life, causing diarrhoeal diseases that keep children out of school, prevent parents from earning a living, and hold whole communities back from reaching their potential.
Through the 'Beacon Project' Anglian Water, along with representatives from its unique supply chain partnerships, is helping to fund WaterAid's water and sanitation projects in Lahan, a medium-sized town in the Siraha district of south-eastern Nepal.
Caroline Wakelin, WaterAid's Senior Water Industry Partnership Manager said: "This is not only a unique partnership for WaterAid and Anglian Water, it's also the first time we've developed a collaborative partnership with a water company, their supply chain and government bodies to deliver a municipal wide approach to the provision of water, sanitation and hygiene. It's already making a vital difference to communities, with whom we're building deep trust and lasting relationships.
"It's our goal to share our knowledge and experience of the UK water industry so we can add value, enhance capacity and enable Nepal's systems to be more sustainable across the country."
The water company and supply chain representatives have recently returned from an enlightening trip where they saw the benefits of WaterAid work in Nepal.
Chris Newsome, Asset Management Director at Anglian Water, added: "These marginalised communities in Lahan are the poorest of the poor and you could see just how difficult their situation is. The places we visited, the communities we met, the children we engaged with, all helped in developing an emotional attachment that will last a lifetime. Everyone is bought in. The goals we set, the intention to commit resources, the development opportunities for staff, it's all absolutely on the table."
During the visit, the team not only met community and school groups, they also shaped future plans to work alongside the Nepali government and local water suppliers at different stages of involvement with WaterAid. They saw the challenges but also solutions and found it an inspiring experience. Part of their interaction involved teaching local staff how to monitor water quality by taking samples and using testing kits.
Reflecting on the visit, Robin Price, Head of Water Quality at Anglian Water, said: "It was genuinely one of the most fulfilling weeks in my working life. I feel that I was able to make a huge difference in a short period of time, which was really very rewarding.
"I met some amazing people who were hugely hospitable. They're so enthusiastic and keen to move things forward. I feel part of a team that includes the community, the local utility, WaterAid Anglian Water, and some fantastic supply chain partners."
Anglian Water employees, customers and supply chain partners have supported WaterAid since it was established by the UK water industry in 1981, donating thousands of volunteering hours and raising millions of pounds. Over the last ten years, Anglian Water has raised over £4.5million to help transform the lives of people in Nepal and across the developing world. Just this month the company and its seven Alliance partners raised more than £600,000 at its annual WaterAid Ball.
WaterAid's work is essential to support the provision of safe water facilities that will last for generations. Find out more at www.wateraid.org.