Water technology unveiled at UU Innovation Lab Demo Day
Eight suppliers took part in United Utilities' Innovation Lab Demo Day with leak detection, sewer inspection and flood defence technologies all showcased.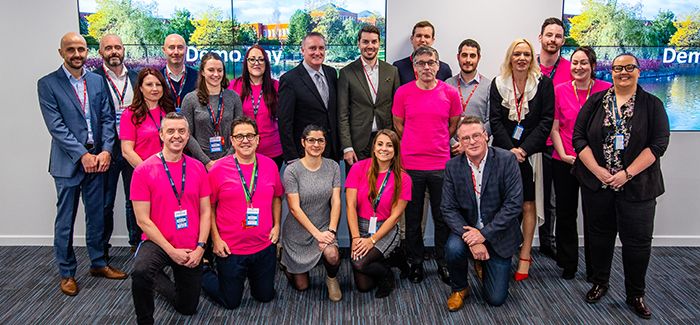 The "Demo Day" is the culmination of the company's scheme which featured eight suppliers and provided a chance for senior leaders at the Warrington, UK-based water firm to see the progress that they have been making over the 10-week tech incubation programme. The audience also contained invited representatives from academia and equity funds.
This is the water company's second Innovation Lab, run in partnership with L Marks, which gives potential suppliers unrivalled access and a supportive environment to develop their concepts and co-create new products and services for the water sector.
Kieran Brocklebank, head of innovation at United Utilities, said: "Interestingly, all the suppliers we are working with would label themselves as small or start-up and five of them had never worked with a UK water company before. They all have a completely different energy to a large corporate like United Utilities, which is exactly what you need to disrupt the status quo.
"Of the eight companies we are working with, four already had a market-ready product. The other four had concepts or prototypes, but in the space of 10 short weeks we have taken all those prototypes to the next level so they are also market-ready. It can only be good news for our customers that innovation is going to be adopted faster.
"Before April we will be publishing the Lab results, after sharing with some of the UK water companies first. We want to promote the fantastic work that these eight suppliers have done, we want to endorse them, make introductions for them, help them get equity investment – all the things that they are going to need to grow and meet the demand of the sector, here in the UK and globally. So watch this space in 2020!"
The suppliers involved in the Innovation Lab are: AJEA Products Ltd; Aqua Consultants; FIDO - FIDO (Free Inserted Data Objects); Emu Analytics; Headlight AI; Introdus; Neptune Solutions; VAPAR.
The 2019 Innovation Lab at United Utilities builds on the success of last year's scheme, which resulted in three long term contracts being awarded in the fields of artificial intelligence, chemical free treatment and asset condition monitoring.