Water stress magnifies drought's negative impact in US
The World Resources Institute (WRI) has published a new map of US water stress, pointing out that dried-out fields and dwindling reservoirs are becoming all too common as companies, farms, and urban areas stagger along under years of long droughts.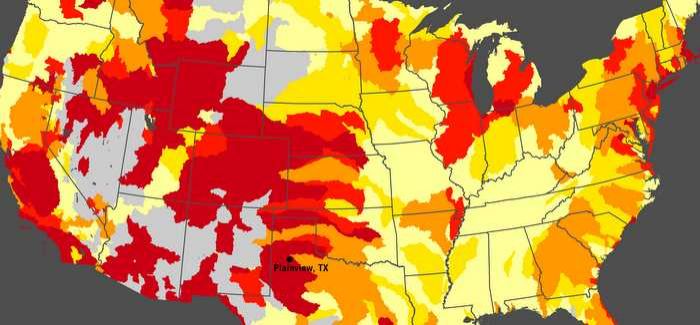 Plainview's plight is emblematic of a broad, national trend, says Andrew Maddocks
The WRI's Andrew Maddocks, in a new blog post, writes that worsening dry conditions now affect two-thirds of Texas while California's historic drought shows no signs of improvement. Exceptional to moderate drought conditions extend in pockets from Oklahoma north through Minnesota.
"Years of Living Dangerously", a new Showtime series about climate change, turned its lens on how drought devastated the small town of Plainview, Texas in its first episode. Drought drove a Cargill beef-processing plant – Plainview's largest employer – to close in 2013.
The Plainview plant sits within the Brazos River basin. "The Brazos is the longest river in Texas and what the show didn't mention is that the river is also extremely water-stressed," writes Maddocks.
WRI's Aqueduct project, which recently evaluated, mapped, and scored stresses on water supplies in the world's 100 largest river basins, found that the Brazos ranked 13th most stressed among the world's largest rivers.
"Plainview's plight is emblematic of a broad, national trend," writes Maddocks. "Drought and water stress overlap in many regions facing water shortages in the United States."
Maddocks warns that climate change will generally make precipitation more extreme, variable, and unpredictable in the years ahead. Additionally, hotter average temperatures mean drier soil, so farms may face greater risks to their crops, and ranchers to their herds – even if it rains more regularly.
However, there is hope, writes Maddocks, as national awareness about water demand builds.
"Some companies are starting to realize that water risks pose serious implications for their bottom lines. Cargill, for example, now participates in the Carbon Disclosure Project's water-risk disclosure program. Tools like CDP's survey are essential as more and more investors seek water-risk information and companies take water risk evaluation and mitigation more seriously."