Water Plus and Waterwise partner to improve water efficiency
Water Plus, the UK's largest water retailer business, has partnered with Waterwise a national independent advisory group to boost water efficiency for consumers and innovation across the UK market.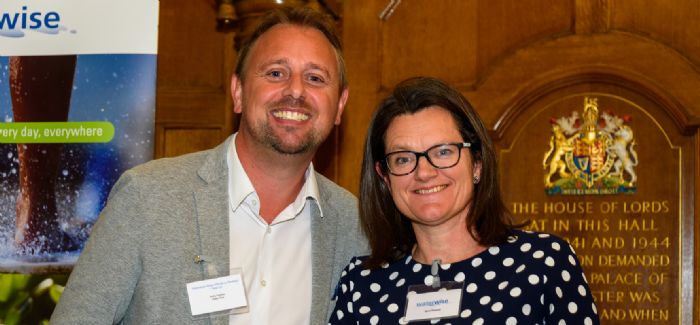 Water Plus CEO Andy Hughes pictured with Waterwise managing director Nicci Russell
Water Plus is the first business retailer to partner with Waterwise, which was established to promote the importance of network efficiency and conservation. The retailer will work with the advisory group and its network of partners to raise awareness regarding water efficiency and the need for market innovation with its customers.
The partnership was announced at the 'Waterwise Strategy for the UK – One Year On' event in London on 20 November, where the advisory group, its partners and representatives from Ofwat, Defra and other industry groups celebrated the achievements made since the launch of the group's five-year programme to improve water efficiency across the UK.
As a partner, Water Plus will also sit on the Waterwise Retail Leadership Group, which brings together retailers, wholesalers and key industry groups to look at ways to increase water efficiency in businesses and non-household organisations.
Andy Hughes, Water Plus CEO, said: "Water efficiency and the reduction of waste plays a vital role in ensuring UK businesses have a resilient and sustainable supply network. The increasing demand on the water network, combined with the need to reduce costs and the impact of climate change means that the challenges facing the market are only going to get tougher. It's our responsibility to meet these head on and make it easier for our customers to go about successfully running their businesses.

"Large organisations can reduce their consumption by undertaking a full water audit programme and, since April 2017, we've helped save customers more than £5 million and two million cubic meters of water, significantly reducing their impact on the environment, and supporting our customers with their CSR goals.
"Waterwise has done great work to champion network efficiency through its work with the Water Efficiency Strategy and we are looking forward to seeing the potential of our partnership come to fruition."

Nicci Russell, managing director of Waterwise, added: "We're thrilled to announce that Water Plus has become a Waterwise Supporter. Water Plus was the first retailer to do this and we're excited about working with them to develop their excellent water efficiency work with customers even further.
"Innovation, ambition and engagement will be key to making the water we have go further - for the sake of the economy, society and the environment, as well as reducing the water and energy bills of individual customers. We couldn't be happier that Water Plus is up for this, building on their ambition for customers already, and we welcome them on board."