Water industry to benefit from new engineering research centres
The water sector is set to benefit from a £47 million investment into three new advanced engineering research centres opened today (Thursday 11 October) at the University of Sheffield.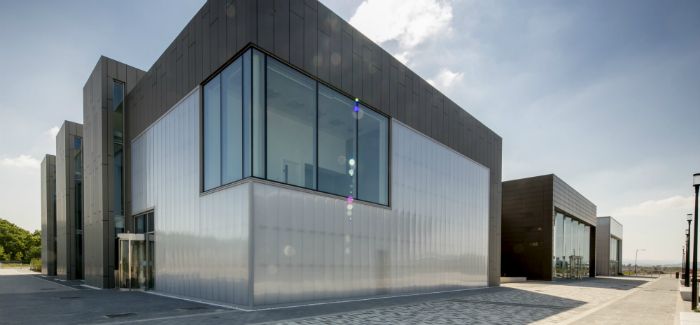 Northern Powerhouse Minister Jake Berry MP and Mayor of the Sheffield City Region Dan Jarvis MP officially opened the centres, which aim to boost Sheffield City Region's reputation as a hub for advanced engineering and industrial digital technologies. 
The centres – the Royce Translational Centre (RTC), the Laboratory for Verification and Validation (LVV), and the Integrated Civil and Infrastructure Research Centre (ICAIR) – are located within the heart of the Sheffield City Region's Advanced Manufacturing Innovation District, a key element of the emerging Global Innovation Corridor that stretches across the Sheffield City Region. 
Working with companies to help new technologies get off the ground, the centres will aim to use the transformational power of research to cut costs and lead times and revolutionise industrial processes. 
As part of their visit, Berry and Jarvis were given a tour of the new centres by professor Mike Hounslow, vice-president and head of the faculty of engineering at the University of Sheffield. Professor Hounslow highlighted some of the successful partnerships between the centres and industry. 
ICAIR is a uniquely powerful experimental facility for investigating both underground and above-ground infrastructure, using data, artificial intelligence and advanced manufacturing techniques to increase productivity in the design, construction and operation of civil infrastructure. 
Given the challenges that water companies face it is clear that new technology and approaches to the inspection, maintenance and repair of our existing piped distribution and drainage networks is needed. 
The UKCRIC National Distributed Water Infrastructure Facility at Sheffield will enable full-scale experimentation of water and sewer pipes and ancillary structures to study deterioration and failure mechanisms, in-pipe biological/chemical and physical processes, flooding and corrosion processes and the assessment of asset condition under realistic full-scale environments. 
Paul Jeffrey, director of research impact for UKCRIC and professor of water management at Cranfield University, said: "This new National Distributed Water Infrastructure Facility represents a significant leap forward in our ability to explore the condition of our water distribution and drainage networks. 
"By better understanding the processes of deterioration, scientists and engineers can work collaboratively to develop new and innovative inspection and repair techniques. The potential impact, in terms of both the sustainability and cost effectiveness of our water and drainage networks, is enormous – and as yet untapped." 
In an example of a partnership with a local business, ICAIR has worked in partnership with Sheffield's Environmental Monitoring Solutions (EMS) to manage the increased risk of urban flooding caused by climate change. The artificial intelligence-based technology, called CENTAUR, means that sewer flow control systems can be managed at a local level, providing better protection using the same infrastructure. 
The three world-leading translational research facilities are each housed in custom designed prestigious new buildings, creating 3,000 sq m of high-technology facilities at an investment of £47 million part-funded by the European Regional Development Fund (ERDF) and UK Research and Innovation (UKRI). Each one builds upon the UK's scientific research leadership to equip industry in these key priorities of the government's Industrial Strategy. 
The site is already home to the University of Sheffield's world-leading Advanced Manufacturing Research Centre (AMRC) Factory 2050 – the UK's first state-of-the-art reconfigurable factory, as well as aerospace giant Boeing's new fabrication facility. 
The work taking place at the three new centres builds on the experience and expertise of the nearby University of Sheffield's Advanced Manufacturing Research Centre (AMRC), which works with partners such as Boeing, Rolls Royce and Airbus to help improve productivity, de-risk investment decisions, and accelerate the early adoption of industrial digital technologies to improve performance and quality. 
The Minister praised the transformative work taking place and how it will allow businesses to gain access to university research expertise and use industrial digital technologies such as AI and robotics. 
Professor Hounslow said: "At the University of Sheffield, we deliver pioneering interdisciplinary research and find solutions to global challenges. The three centres launched today build on this established expertise and firmly place us as a key partner for industry. The capabilities of the centres will enable us to test and operate on an industrial scale, translating theory into application to improve productivity, cost efficiencies and innovation across a broad range of sectors."