Water industry 'Oscars' open for entries
It's September which can only mean one thing ─ it's time to get those entries rolling in for the Water Industry Achievement Awards (WIAA). The closing date is December 12, 2014.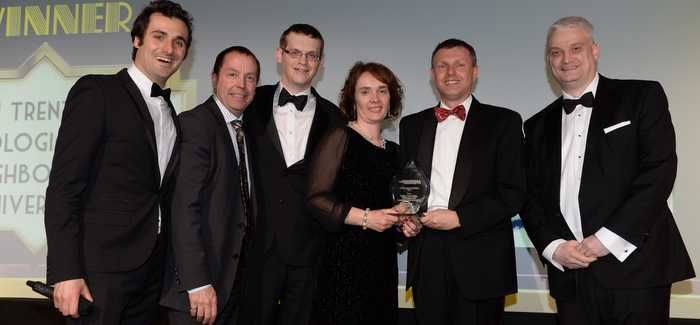 The Outstanding Innovation 2014 winners (Severn Trent Water's Julie Hart; Marc Bracken, of Echologics; Neil Dixon and James Flint, from Loughborough University) with Ofwat's Mark Worsfold (right) and awards host Patrick Monahan (left)
Celebrating and rewarding innovative thinking and best practice in the water industry, the awards are back for 2015 and will be held on April 21 at the Hilton Birmingham Metropole. Organised by WET News and Water & Wastewater Treatment, the awards provide the ideal opportunity to benchmark outstanding successes in key areas including supply chain partnerships, carbon reduction, health and safety, water resource management and data projects.
Maureen Gaines, editor of WET News, said: "Innovation and forward thinking is key. The awards are not just about meeting regulatory targets, they're about thinking outside of the box and going beyond the call of duty. That's what our judges will look for when they come to scrutinise entries."
From partnerships, training and customer service to product innovation and carbon reduction, there are awards for all businesses regardless of their size or focus. A full list of categories is available here.
Seven companies have already signed up and are sponsoring categories. Making a welcome return are NM Group, sponsoring Most Innovative New Technology of the Year; the CPSA, sponsoring Sustainable Drainage & Flood Management Initiative of the Year; Doosan Enpure, sponsoring Outstanding Individual Contribution to the Water Industry; Asset International, sponsoring Carbon Reduction Initiative of the Year; Imtech, sponsoring Partnership Initiative of the Year; TES, co-sponsoring People Initiative of the Year; and Ofwat, sponsoring Outstanding Innovation 2015.