Water industry must 'win hearts and minds' in asset management
The UK water industry must think beyond physical assets in its asset management and build societal capital by showing its value to the community, delegates heard at the WWT Asset Management conference yesterday (May 2).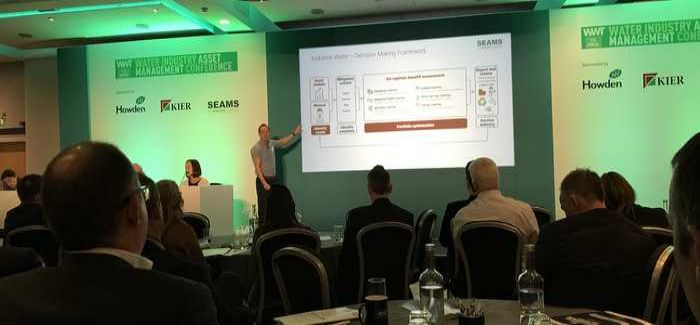 Eliane Algaard, Water Director at Northumbrian Water, told the conference that while the sector has rightly been focusing on building resilience into its assets and networks, it is also just as important to 'win the hearts and minds' of its stakeholders and customers. This involves thinking about the societal and environmental effects of its work, and building these considerations into decision-making at every stage.
She called for the industry to pursue a common approach to what is known as the 'six capitals' and said that AMP7 provided new opportunities for collaboration, particularly in the sphere of resilience. She highlighted Northumbrian's multi-stakeholder work, such as its Pesti-wise initiative which worked with farmers on catchment management and the elimination of pesticides, and its sustainable drainage projects which have worked alongside local communities on reducing flooding.  
"There have been predictions that the next five years are going to be hard, but I believe they are going to be fun. We've got great people and we need to all pull together to make it happen," said Algaard.
Earlier, the conference heard from Nevil Muncaster, Director of Asset Management at Yorkshire Water, and Joe Roebuck, Global Water Director at SEAMS, about how Yorkshire Water's programme for AMP7 had built calculations about the six capitals into its decisions using analytical software. Roebuck cited calculations that showed that for every £1 spent on Yorkshire Water's water projects there was £4.66 in benefits to the wider community, while the figure for wastewater is £3.20. Non-asset projects often have the biggest paybacks, which is why the industry should not always rush to "spade in the ground" solutions.
Muncaster gave the example of Hull - where the utility is working with multiple stakeholders to reduce flood risk following devastating floods in 2007– to demonstrate how the water company's work was vital for communities, irrespective of whether that includes building assets.
"We're an anchor organisation – we have an impact on 5 million people every day in their daily lives, and that gives us responsibilities in the communities we serve," said Muncaster.
In a poll conducted among participants at the conference, 38% thought that in order to become more resilient the industry should focus its investment in technology and innovation; this compared to 18% who thought the focus should be on improving assets, 12% who believed it should invest in people and processes, and only 2% who thought the key was building new assets. The remainder (29%) advocated a mixed approach.
"The best form of asset management is we don't build anything," commented another of the conference's speakers, Neil Wilson, Director of Risk and Investment at Wessex Water. "It might make people uncomfortable, but if we want to leave our environment in a better position than how we found it, we've got to stop thinking the answer is to build things."
The WWT Asset Management conference was held in Birmingham on May 2nd and sponsored by SEAMS, Howden and Kier.