Water industry loses 3.1 billion litres of water every day
The Consumer Council for Water (CCWater) has warned water companies to plug rising levels of leakage, after it revealed leakage has increased by more than 1% overall. A report released by the watchdog today (December 6) shows the water industry in England and Wales lost 3.1 billion litres of water every day in 2016/17.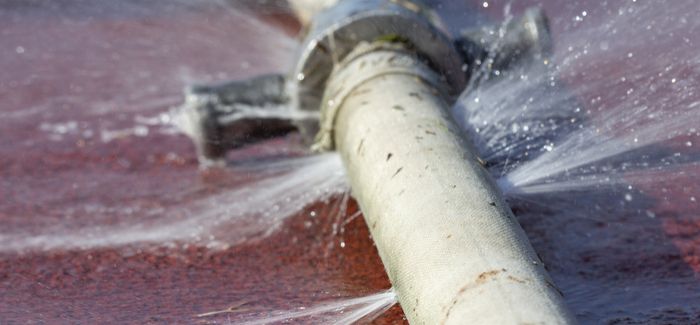 Companies reporting the biggest increase in leakage included Dee Valley Water (+14.1%), Essex and Suffolk Water (+9.1%), Cambridge Water (+8.2%), Portsmouth Water (+7.6%), Thames Water (+5.4%) and Bristol Water (+5%).
A spokesperson for Dee Valley said: "Dee Valley has been one of the best performers in the industry in terms of leakage per customer. Performance last year was down but our teams have made real progress in the first six months of this year by introducing a number of initiatives, sharing best practice between Dee Valley and Severn Trent, expanding sensors in our network to help us find and fix leaks more quickly, and bringing in special electronic devices to pinpoint the exact location of leaks.
"As a result of this, leakage in the six months to September, since Severn Trent took the company over, has improved and is on track to improve this year."
Meanwhile, the largest reductions were reported by Affinity Water (-4.4%), United Utilities (-2.8%), Bournemouth Water (-2.6%) and Dŵr Cymru Welsh Water (-2.5%).
A "gulf in the performance" of the worst and best performers was highlighted with Thames Water losing around 179 litres of water per property each day, compared to Southern Water with less than 80 litres lost per property each day.
Thames Water incurred an £8.5M penalty from Ofwat for missing its leakage target for 2016/17, which will be returned to customers in the form of lower bills.
Last month, the company admitted it "let down" customers on its leakage performance and pledged to return £40M of penalties to customers. Steve Robertson, chief executive of Thames Water, said it will not meet its target for leaks once again this financial year and potentially next year as well.
Responding to CCWater's report a spokesperson for Thames Water said: "Reducing leakage is a top priority for Thames Water and our customers and we have significantly increased investment this year. We are working harder and smarter to create a more resilient network while minimising costs and disruption to our customers, given some of our major pipes are buried under London's busiest roads."
To reach its target by the end of 2019/20, Thames Water said it will invest an additional £133M and change how it organises and manages its water networks business. The company said it had increased the number of people in its leakage detection teams by "50%" this year.
CCWater has questioned whether leakage targets are "challenging enough" within the sector, as only four companies missed their 2016/17 targets, despite overall leakage levels increasing by 1.2%. Targets were also missed by Cambridge, Essex and Suffolk and Portsmouth.
Tony Smith, chief executive of the Consumer Council for Water, said: "Consumers view leakage as a dreadful waste and it can drain their own motivation to save water."
"Some water companies need to show much more ambition in tackling leaks, otherwise all of our efforts to encourage consumers to use water more wisely will fall on deaf ears."  
A Water UK spokesperson added: "Leakage is an important issue, which is why water companies spend millions of pounds each year, which has helped to cut leaks by a third since the mid-1990s and most companies are still beating their targets. We've had some major successes in combatting leakage over the years, and at the same time we know that people want to do the right thing and use water wisely to help the environment. We all need to work together in different ways to reduce the pressure on water supplies, and that's what water companies are doing every day."
CCWater said it supports proposals by Ofwat for companies to reduce leakage by at least 15% between 2020 and 2025. 
A version of this article first appeared on Utility Week.