Water industry 'blue card' gets a makeover
Energy & Utility Skills will officially roll-out its new-look, high quality and more durable Blue Card this month as part of its ongoing investment in the National Water Hygiene training.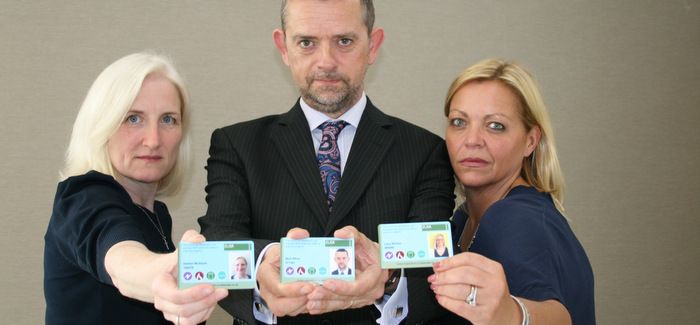 Denise McGlynn, Nick Ellins, and Lucy Ritchie
The National Water Hygiene blue card has become the recognised standard across the water industry, helping to protect the high standards of the UK's drinking water - from source all the way to the tap. Completion of the National Water Hygiene training and becoming a blue card holder, will help to ensure that all water staff can operate to the highest hygiene and safety practices.
Mirroring the recent water company senior executive movement, the whole Energy & Utility Skills water team has now completed the training and are modelling the new card, including client manager Denise McGlynn, chief executive Nick Ellins, solutions manager Lucy Ritchie, and head of skills solutions and implementation Rachel Brennan.
Ellins said: "The National Water Hygiene training was introduced to the industry over a decade ago as a collaboration between the UK water industry, key public health bodies and Energy & Utility Skills. It is now becoming established as a vital element in making excellence the standard in public health, and we are proud to have secured our 'blue cards.
"Individuals who successfully complete the training are added to the Energy & Utility Skills Register (EUSR), which allows employers to verify the skills of their workforce through a trusted online portal at any time. There are now nearly 80,000 cardholders registered on EUSR."
Energy & Utility Skills has also formed a strategic partnership with the Institute of Water, the only professional body solely dedicated to the careers of water professionals. The partnership will see the organisations work proactively together to actively promote careers in water and prioritise health and safety.
This collaboration puts into action the key recommendations from the first-ever Workforce Renewal and Skills Strategy, published in February 2017, which made the case clear for stakeholders to act together to ensure a safe, competent and sustainable workforce for the water and wider energy and utilities sector.