Water Industry Achievement Awards 2015 finalists announced!
Entries for this year's Water Industry Achievement Awards are in, and the judges have made their difficult decisions. The winners' names, however, are under lock and key, and will remain so until April 21 when all will be revealed at a prestigious awards ceremony and gala dinner at the Hilton Birmingham Metropole.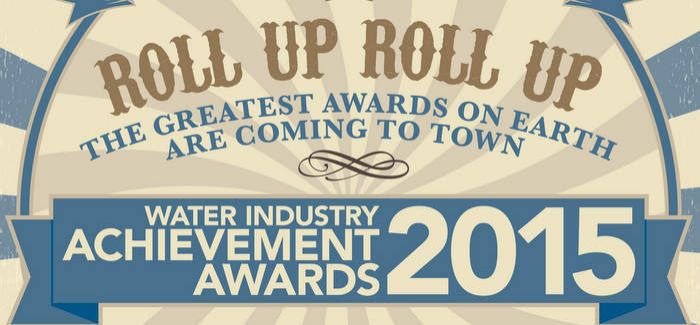 Yet, again we were inundated with entries and the quality was outstandingly high, ensuring that our judges had to make some very tough decisions in selecting their winners in each category.
Organised by WET News and Water & Wastewater Treatment, the awards celebrate and reward outstanding innovation in the UK water industry, and are sponsored by water regulator Ofwat and water experts Imtech Water, Waste & Energy, Asset International, TES, NM Group, CPSA, Saint-Gobain PAM, Doosan, Sykes Pumps, Selwood, Teekay, and Talis.
The finalists in the running for a coveted WIAA trophy are: 
 Carbon Reduction Initiative of the Year
BACTEST for its Shepherd AS Monitoring & Management System
H5O and South West Water for the Holbeton Bathing Waters Scheme
Kier for the St Eval SPT and Transfer Main project
LORImtech, CNG Services and Severn Trent Services for the Minworth Gas-to-Grid project
Suprafilt Aeration Experts for the Market Drayton STW upgrade
Yorkshire Water for its CO2llaborate campaign
Community Project of the Year
ESH Construction and its Skill Mill ex-young offenders scheme
Kier Services for its Making Ground initiative
Morrison Utility Services and its school safety programme
Severn Trent Water for its Low Energy Neighbourhood Project
Wessex Water for its Money Matters awards scheme
Customer Satisfaction Initiative of the Year
Anglian Water for its Bits and Bobs initiative
Northumbrian Water Group for its Project Insight scheme
Severn Trent Water and Amey for their Getting To Know The Key Stakeholders initiative
Severn Trent Water and NMCNomenca for their Cheltenham Sewerage Strategy
Stonbury and Northumbrian Water for their Community Portal online tool
Yorkshire Water for its Taking Responsibility for the Water Environment for Good initiative
Data Project of the Year
Business Modelling Associates and Yorkshire Water for their Project Crystal scheme
Clear Environmental Consultants for its Sewerage Management Planning system
eight2O for its pollution incident reduction initiative
Severn Trent Water for its online catalogue of standard productised assets
South West Water, University of Exeter, EA for the Monitoring Mires on the Moor scheme
Yorkshire Water for its Wastewater Compliance Telemetry Enhancement initiative
Engineer of the Year
Tom Mann, principal civil engineer, Grontmij's water team
Dr Paul Linford, chief technical officer and founder of Syrinix
Most Innovative Use of an Existing Technology
APEM and Dwr Cymru Welsh Water for Digital Aerial Surveys for Rivers and Aquatic Habitats
e5 alliance and Severn Trent Water for the "Bagel" Acid Phase Digester
H5O and South West Water for the use of an activated biofilter at Kingsbridge STW
Northumbrian Water Group for its sewer level monitoring scheme
Orchard Watercare, Atlas Water Harvesting for a gravity fed rainwater harvesting system
Perceptive Engineering, United Utilities for the Lost Opportunity KPI Report
South West Water, NRW, University of Portsmouth for the Chemcatcher passive sampler
Health and Safety Initiative of the Year
H5O and South West Water for their Working in a Minefield scheme
Kier Services for its Make A Difference initiative
Morrison Utility Services for its School Safety campaign
Northumbrian Water Group for its CDM Coordinator initiative
Thames Water Utilities for up-skilling managers' H&S knowledge and understanding
Yorkshire Water for its adoption of a Wellbeing Model
Most Innovative New Technology of the Year
ALS Environmental for its Matrix Assisted Laser Disorption and Ionisation by Time of Flight technique
Northumbrian Water Group for the Reservoir Control and Bypass Valve
NVP Energy for its Low Temperature Anaerobic Digestion technology
Propelair for the Propelair toilet system
Southern Water for its use of mobile biological treatment tanks
Wessex Water, Dynamic Flow Technologies, Elster Water Metering for their wastewater metering technology
Outstanding Individual Contribution to the Water Industry
To be announced on the night
Outstanding Innovation 2015
To be announced on the night
Partnership Initiative of the Year
Efficio and Thames Water for their approach to strategic sourcing
H5O and South West Water for the SWW Water Alliance model
Scottish Water Infrastructure Growth & Skills Programme
STW One Supply Chain for its One Severn Trent collaboration
Wessex Water, Bristol Water, Bristol City Council for their initiative to keep Bristol moving
WRC plc for its Instrument User Group scheme
People Initiative of the Year
Dwr Cymru Welsh Water and its Talent Search Programme
Imtech Water, Waste & Energy for its Be-WELL policy
Kier Services for its Functional English programme
Northumbrian Water Group for its Our Way... Your Direction initiative
Supply UK Water Services for its Calm Network Training scheme
Yorkshire Water for its i3 - energISE, revitalISE and specialISE initiative
Sustainable Drainage & Flood Initiative of the Year
Acoustic Sensing Technology for the SewerBatt system
Northumbrian Water Group for its Surface Water Management Approach
Water Resource Management Initiative of the Year
Affinity Water for its Zoo in the Loo project
Mott MacDonald Bentley for the Beaver Dyke Reservoir discontinuance project
Northumbrian Water Group for the Abberton Reservoir scheme
Thames Water Utilities and MGJV for the Aquifer Storage and Recovery trial
A huge congratulations to this year's finalists!
Win or lose, their outstanding achievements are definitely worth celebrating! Join us for a night of networking, innovation and rewarding excellence at the WIAA gala dinner and ceremony. Taking place on April 21 at the Hilton Birmingham Metropole, the black tie event is a must-attend to celebrate the water industry's innovators who are making a difference.
Book your place today, and take advantage of our early booking rate.