Water 'grand challenge' project launches
A research initiative which will see six universities collaborate on meeting the water challenges of the next 50 years has been formally launched.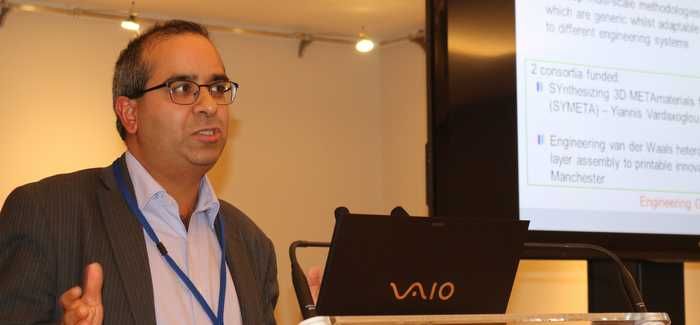 Kedar Pandya, Head of Engineering at EPSRC, at the launch
The 'Twenty65' project is being carried out by a consortium of academic institutions led by the University of Sheffield, with the other five being Imperial College London, Newcastle University, University of Exeter, The University of Manchester and University of Reading. The project is backed by £3.9M in funding from the Engineering and Physical Sciences Research Council (EPSRC).
With the tagline of 'Tailored Water Solutions for Positive Impact' it will seek to address the 'grand challenge' of providing sustainable water for all in the face of population growth, climate change, urbanisation and ageing infrastructure in the years to 2065. It will provide thought leadership through a partnership approach between the universities, water utilities, trade associations and the supply chain.
The project will address eight research areas with investigations, collaborations and white papers to be written in each area. These are demand-based treatment; synergistic water-energy systems; robotic autonomous systems for infrastructure inspection and rehabilitation; the city as a water resource; adapting to changing catchments; enhancing water services through mobilisation; collaboration for innovation; and foresight and integration.
Professor Joby Boxall, Professor of Water Infrastructure Engineering at the University of Sheffield and the Principal Investigator for the project, said that there was no silver bullet to addressing the grand challenges and the researchers would instead seek to identify a "basket of disruptive innovations" that could provide a tailored response to the challenges in each of its work streams. 
"We are a conservative sector – no bad thing when you are dealing with something as important as drinking water – and in some respects we work in silos," Professor Boxall said at the launch event in London. "But these grand challenges have to be the focus for a community to get together, to create a hub where researchers, thinkers and innovators can engage.
"Our vision is that by 2065, collaborative innovation has generated a water sector that is delivering sustainable tailored water solutions that positively impact on public health, the environment, the economy and society."
Examples of some of the disruptive innovations that will be discussed in the project are "under the sink" treatment solutions that allow grey water to be used in the home, for example in flushing toilets; autonomous robots that can roam the distribution system and identify problems with infrastructure; and small-scale rainfall capture and treatment for rural communities.
Also speaking at the launch, Kedar Pandya, Head of Engineering at EPSRC, welcomed the project and praised the collaborative approach the water sector was taking. The water grand challenge is one of four which is the subject of research being funded by EPSRC in the next five years. The others are balancing engineered and natural systems in future cities; engineering across length scales, from atoms to applications; and building resilience into engineered systems.